On 9/20 I took a red eye to Gulfport, Mississippi to pick up my new-to-me Chinook. I had a 3 hour layover in Atlanta. Whew. Couldn't sleep much at all. Then the flight from Atlanta to Gulfport had to turn around mid-way due to a "pressurization problem". Yikes! We landed back in Atlanta safely and they had us on another plane within an hour.
Claude picked me up at the airport in Gulfport and drove me to the motorhome which was waiting at Empress Audio and Marine to get the new Pioneer deck with Apple Car play installed. That went very well and they even put on my Washington state plates as well! Everything went smoothly.
I headed to my reservation at Sunset Marina at 43 RV park in Brandon, Mississippi and managed to get myself good and lost. It was starting to storm too so I was pretty anxious as it was almost dark. Finally found my way back to the right road and I was there in no time. The RV park was really amazing and the view was breathtaking. Here are the first photos of the RV in the camping spot on the first night.
I took off around 8 AM and fully intended to get to Moscow, Iowa (over 600 miles). The drive went very well (except Arkansas highways are awful!). And the Mississippi rest stops are something to behold. Here's some photos I took – Ryan said he might even be willing to use them when I showed him these pics.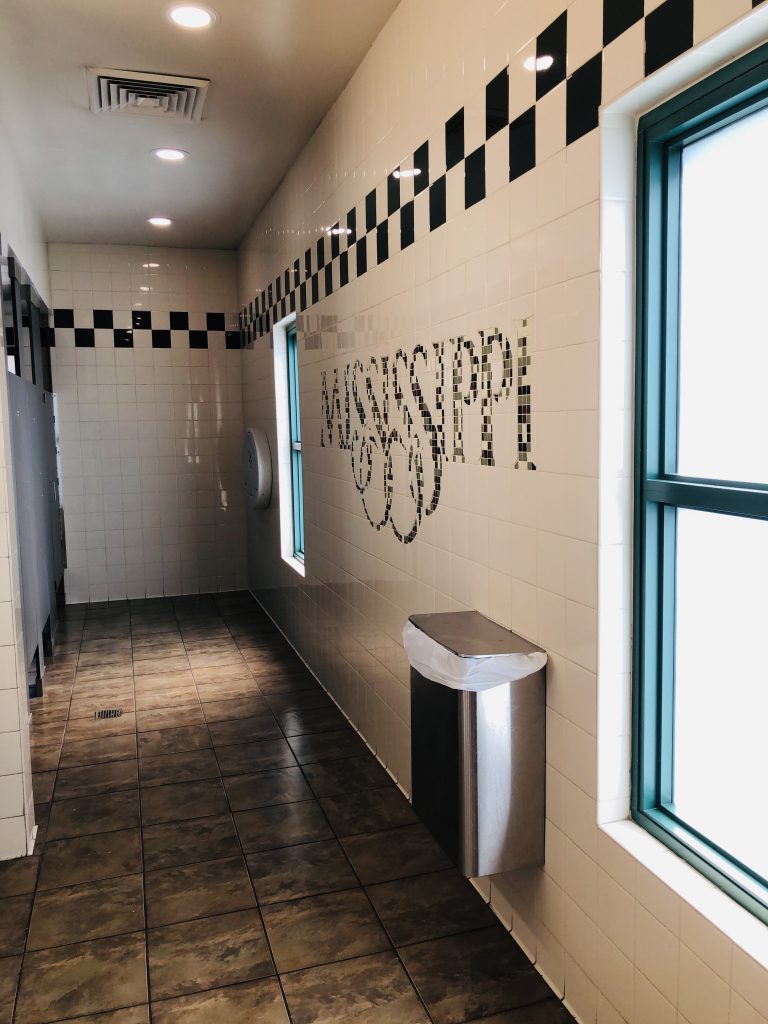 I made it all the way to St Louis and it was close to 5 PM. I decided to find an RV spot for the night and got lucky as the first two I called were full. Am tucked away in my wonderful Chinook for the night and plan to hear out at 6:30 AM tomorrow to get to Moscow, Iowa to have the slides and jacks inspected at HWH Corp.
More tomorrow.
Thursday, September 23, 2021
So today I drove from St. Louis to HWH Corp in Moscow, Iowa. They manufactured the hydraulic system for the slides and the leveling jacks in my motorhome. I wanted them to do a complete inspection. I arrived at 11:45 AM for a 1:30 PM appointment and they got me in right away.
The technician said I needed the control board to be fixed – was a shorted out relay. The thing is, the slides worked fine when I got there so it's good that I had them inspected the system! However, the technician clearly wasn't that familiar with Chinooks and couldn't get the slide in the living room to go back in. After 3 hours of fiddling with it, he finally "called the engineer" and then they had it working fine.
Go figure.
Bottom line is everything is working great and I'm in a nice little campground about 5 miles away. I'll have a very, very long drive tomorrow so I'm going to bed early. I need to get to Denver by tomorrow night.
More tomorrow.