First solo road trip ever and I'm so excited to get started. While I'll miss my Road Trip Warrior (aka Ryan), I know this opportunity for us both is important.
Got the surfboard loaded and the trailer washed the night before. Little did I know that the trailer tabs had expired so first thing in the morning, I'll pick up the new tabs that I just ordered via the web. 🙂
Day One – September 3, 2011
Left the house at 10:30 and by the time I had the tabs, got gas, stopped at the bank and then stopped by the trailer dealer for a lesson on how my awning works, I was on the road by 11:30.
Made it to Grants Pass right at 7 PM and had time to get the trailer set up before dark. NOTE TO SELF – get a flashlight!
Here are two pics of my truck and trailer at the Moon Mountain RV Camp in Grants Pass OR – beautiful campsite – very level – didn't even disconnect the truck. I'll have to remember this place – very, very nice and the owners are warm and friendly.
My beautiful Bianchi Milano Cafe Racer is ready to go too! The bike rack for the trailer ladder works great!
During Day 1 drive, the ABS light came on. Quick email to Blake (my mechanic) and I know there's nothing to worry about.
Day Two – September 4, 2011
Day 2 I work up about 7:30 and was ready to pull out at 8:30. Blake said to check brake fluid – it's full so I'm on the road again!
Found a Chevron station – no diesel – but the lovely gentlemen there pointed me to one with easy access for my truck/trailer and yes indeed; it was just where he said it would be.
And of course, when I asked the lovely older gentlemen there about the brake fluid, he asked if my ABS light came on. Oh yes, I said. He told me he had a truck just like mine and that would happen in the heat when he was using the "tow/haul" feature. This confirmed what Blake had told me so I was grateful for the blessing of confirmation. And the ABS light isn't on today at all.
Coming down the hill, Mt Shasta was breathtaking – even in the haze.
Not sure where I'll be staying tonight – I'm thinking I'll head to 101 and take the scenic route.
More later.
Decided to go to 101 from Redding. Hwy 299 was the most scenic route I've seen – ever! It took almost all day but oh my gosh – it was BEAUTIFUL!! Here's a pic of Whiskeytown Lake which is 8 miles west of Redding.
Have I said I love my truck yet?? Well….. I really love my truck! It handled the winding mountain roads with that heavy trailer like nothing was there! And of course, the ABS light never came on again.
I decided to find a place to stay before it got dark. Angels abound and led me to the Riverwalk RV Park in Fortuna, CA. Nice level spot with full hook ups!
The coastal weather is moving in now – I so love the California coast!! I can feel it's Spirit in my Soul. It's going to be chilly tonight – and I forgot a jacket. So I'm going to bundle down in my cozy home-away-from-home.
And I didn't even text or call Ryan once today! He needs a 'vacation' from Mom too!
Matt's surfboard fit nicely on the side of my bedroom in the trailer. That was a huge relief! I was so worried about how I was going to get it down to him.
Day 2 has been extraordinary! More tomorrow….
Day Three – September 5, 2011
I am getting an early start today as my destination is Malibu and I'm wayyyyy up in Northern California. 11+ hour drive but all along the coast so I'm excited to get started. More later.
Very long day. Just got back from seeing Matt and Marley. Surfboard has been transferred and Matt and I watched the latest episode of Breaking Bad. I've got a few pics to share but will upload them in the morning – gotta sleep.
Here are the pics from Day Three's adventure. The drive from the very northern part of California (Fortuna) was beautiful. Driving through the Humboldt Redwoods State Park reminded me of a camping trip we went on with my dad and my Uncle Bernie and his family in Sequoia National Park. As a kid, I remember being awestruck at the sheer size of the gigantic redwood trees and they took my breath away today too.
In the midst of this natural environment rests a little tourist site that I just had to stop and visit – if only to get pics!
I can only imagine the Life Story of the person who decided to plant themselves in the midst of this wondrous natural environment!
I arrived at Day Three's campground – Malibu Beach RV Park
at 9 PM so it was dark. When I made my reservation, I choose to reserve an "ocean view" site; it was a little more expensive but it sounded incredibly nice. Anyway, arriving in the dark, I asked the young woman if the spot was 'easy to get into'; she assured me it was.
Well, imagine trying to back my 30 foot trailer into this site! Go too far and you're over the cliff! No thank you!
I requested a 'pull through' spot since I was only staying one night and she was very accommodating.
The view from the campground is extraordinary! Ever since I was small, I've loved the ocean. Camping at the state beach parks with Kyle, my dad, brother and sister brings back so many fond memories. As I grew older and was on my own, I use to put Sarah – my precious cockapoo – in my backpack and ride my bike from Hollywood down to the ocean via Sunset Boulevard. This was when I lived on Hillhurst Avenue just south of Franklin in a little cottage apartment. I was 21 years old and I remember being so very poor; my rent took most of my income so I had a space in the back of the cottage about 5 feet by 3 feet where I grew zucchini. I can cook zucchini a thousand different ways!
A pic from Day three campsite.
A huge RV just pulled along side me and now I can't see the ocean from my trailer so I guess it's time to pack out and head out to my Long Beach RV park where I'll be staying until the 13th! Whew…. it's been a long journey just getting down here but I've learned so much about myself and what I'm capable of. It will be so nice to plant the trailer and myself for a good long week at the beach.
Day Four – September 6, 2011
Before going to my Long Beach RV park, I went to Camping World and bought a few little things I needed for the trailer. Since this is the first long trip with her, I'm finding little things I need so it was nice to find a Camping World not too far from Long Beach.
I arrived at Golden Shores RV Park around noon and even though check in isn't until two, they let me check in. The spot I have is right next to the pool but since most of the people here are full time RV'ers who live here, it's not used too much so it isn't noisy. I was able to back the trailer in just fine with plenty of room for my truck. I set up the awning without any difficulty at all. I also found a nice spot to park my bike when I'm here and keep it locked up too; I bring it in the trailer when I leave and at night, of course.
Looks like Matt is pretty busy with work this week; he wants to have a sit down talk which means he's got a lot on his mind.
Tomorrow I'll definitely be going for a bike ride. There's a lovely beach bike path that runs right along the RV park and Matt just asked if we could meet for a late dinner after he gets done with work. Sounds like a wonderful vacation day for sure!
Day Five – September 7, 2011
I so love my campsite here! Woke up this morning and made coffee. Checked in with Kyle and Jane and got on my bike for a ride on the beach. The bike path is perfect!
I rode for 10 miles in total; from my campsite to Belmont Veterans Memorial Pier.
The guy in the red swim shorts is actually middle age (whoa – look at that bod!) and smiled and said hello to me. *blush*
The beaches were almost empty – it being a Wednesday and all. And yes, I had to think twice to remember what day it was!
This solar powered boat was stowed just off the pier – really odd looking for sure.
And this beautiful Light House reminded me of Pat (Mark's mom) who I so hope I can visit with while I'm here. I love her so much; I know she would love this picture too.
And I'm always reminded by something that I run across of my own Life Purpose; for some reason, this photo of a lone ocean bird on the round buoy gave me pause and reason to reflect ever deeper.
On the agenda for the rest of today is relaxing, reading and a late supper with Matt and Marley!
After some jockeying around with plans – we finally met up at a Korean BBQ place – which was very good! Here's Matt and Marley.
Day Six – September 8, 2011
Another incredibly hot day. Part of the bike path was closed due to some tv/film making activity so I found myself on a side road where I stumbled upon this beautiful sea bird; who let me get quite close! Queen Mary is in the background.
I finally found the "bike path detour" and stopped to lounge on the grass by the light house and watch the pelicans dive into the ocean after fish. The Queen Mary was across the channel and I really wanted to figure out how to get over there.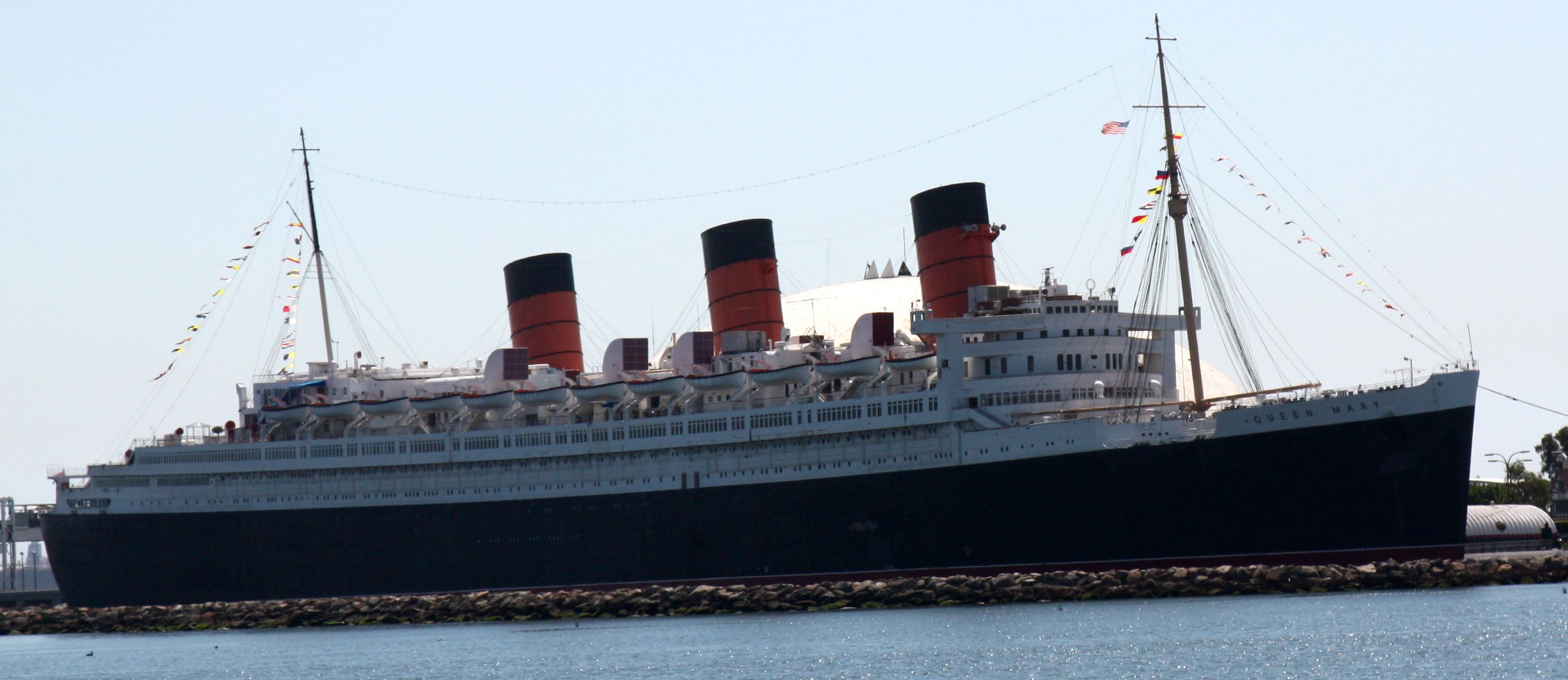 There is a bridge with a bike path that worked perfectly. Because it was Thursday, there were very few people around. The Queen Mary is a hotel/tourist attraction – with quite a history. Funny how I lived here for years and never thought of seeing it – now I want to go inside – but don't think I want to enough to pay the high cost!
Planning to visit Kyle Friday.
Day Seven – September 9, 2011
The weather up until today has been 90+; it's been nice and cool in my home-away-from-home thanks to the AC but I love open windows and fresh air. This morning dawned like a whole new season! It was mid-70's and very pleasant. Windows open and lots of fresh air!
Kyle and Larry drove down from Fontana today, along with their cute grandson – Alan.
We had a terrific time catching up. Went for lunch at Shoreline Village (Chili's) and then spent some time back at the ranch (my travel trailer) where Larry fixed the TV for me – woo hoo!
Kyle and I've known each other since 7th grade – let's see – that's like over 40 years!!
Love and miss her so much!
Day Eight – September 10, 2011
Thunder and lightening plus some showers this morning. Had to adjust the awning because it was acting as a rain barrel with the way it was set up. Who would have thought I would run into rain here! LOL
On today's agenda is a pedicure this morning, followed by a trip to a local book store for some browsing and then I'm off to Regina's for some wonderful home cooking! Matt, Marley, Vincent and Amber will be there too.
More later………
Regina cooked THE best meal I've had in a very long time! It was so much fun to see Vincent and meet his lovely GF Amber.
Matt and Marley made it out too and we worked on getting Dad's slides into a digital format that both Regina and I can work with. I'm going to work on doing some of the correcting and then will send Regina the thumb drives with the slides all converted to digital format with the views correct. Wow… what a trip down memory lane too. Here's one of the pics that I found that I particularly love; it's my brother Kevin's 7th birthday picture. I'm 8 and Regina is 5. I love how Regina is so happy here and you can see Kevin concentrating on holding his birthday cake perfectly. Kevin died when he was 23; not a day goes by that I don't think of him.
Day Nine – Sunday, September 11, 2011
Ten years ago today many innocent men, women and children were murdered by terrorists who attacked us using hijacked airplanes. God bless and keep everyone impacted by that terrible tragedy. Our country has changed so much since then.
Day Ten – Monday, September 12, 2011
So much to process about today that I'm going to wait until I can sort through my feelings.
I was working hard at fixing the old photo slides my Dad took of us that Matt turned into digital images and decided to drive up to LA to see my child hood home. I met the woman living there and when I explained who I was and what the house meant to me, she allowed me to come in and take photos.
So much to process about that.
I've been here a week and have only seen Matt 3 times and we didn't have a chance to really talk at all; so much to process about that too.
Heading home early tomorrow – hope to be home by Thursday evening so I have a 3 day weekend to rest.
More later.
Day Eleven – Tuesday, September 13, 2011
Left Long Beach after a bit of a struggle (my own fault) hooking up the trailer. I didn't notice that the anti-sway bar was preventing the hitch from fully locking until I fiddled with it for quite a while. I felt pretty silly when I saw that the anti-sway bar was touching the ground and preventing the hitch from fully engaging.
*rolls eyes*
I hit the 710 about 9 AM which turned out ok as it meant I was a bit behind the morning rush hour. I did hit a bit of stop and go traffic on the 405 near LAX but other than that, it was a pretty smooth exit.
I never imagined I'd make it all the way to Redding, CA but I did. I'm staying at the Durango RV Resort in Red Bluff CA – which is just a few miles south of Redding. I arrived after hours but they have a night host who was very helpful in getting me set up in my nice, level pull-through spot.
I may just be able to make it home by Wednesday evening – which will be nice.
I'm still processing the whole trip as far as Matt is concerned, as well as being given the opportunity to see my childhood home and take photos. I'll do a separate post about both at some point.
All and all, it's been a very relaxing trip. I love my trailer – it's so nice to have your 'home' with you. I also enjoyed having so much time to just enjoy the beach – that was a very pleasant surprise.
Home – Day Twelve – Wednesday, September 14, 2011
Thirteen hours and 15 minutes from Red Bluff, CA to Covington, WA. Whew….. My feet are swollen and I'm ready to relax and then go to bed. Will be posting some photos of my childhood home – then and now in a separate post soon!