It's been 9 days since surgery and I've decided to log my progress.
I confess to being very depressed the last few days – am not sure why – it's just the way it is right now.
I need to be more disciplined about doing my post op exercises so that is my goal now. Post-op exercises AT LEAST two times per day, preferably three if possible.
In addition, I'm going to do laps around the lower level of the house. I did five today and hope to increase that to 10 within the next two weeks.
I'll be tracking it all here – just for future reference.
*********************************************************
December 29, 2011
I discovered Bonessmart and joined the patient forum. The people who participate are terrific; the moderation makes it difficult to express yourself openly.  So I just read the stories and hope to find helpful information.
16 stitches removed today. Exhausted by trip to Seattle to see doctor, then lunch with Matt. Matt was very cold and distant – which really hurt. He's here helping me out of a sense of obligation rather than genuine love. It's so very sad what has happened to our relationship.
We stopped at the store and I got a bath mat for my tub and handle support for the tub. Now I think I pretty much have everything I need now to really begin figuring out my new 'normal'.
*********************************************************
December 30, 2011
Had quite a bit of weepiness and general pity party type of stuff going on yesterday. Matt is leaving and it's so hard to accept that he is no longer part of our daily lives. I miss the relationship I had with him so very much. And here I go crying again……
Geeze…….. sometimes I think someone needs to just shoot me and put me out of my misery.
Sitting in my chair, realizing how much I'm responsible for with this house and everything………. it's overwhelming because I can't do anything now. I can barely get myself showered and dressed for crying out loud.
I need to get out of this space somehow.
UPDATE – Dec 30th early evening. Clawing my way out of the emotional darkness, I realize I have to somehow get control over everything I'm feeling. Matt and I clearly have a lot of emotional work to do to get across the emotional chasm we have between us. Good news! He's agreed to a monthly Skype conversation beginning in February!
The other update is I was able to shower today – all by myself. Matt installed a shower grab bar which allowed me to get in and out of the tub/shower myself. I didn't even have to use the sit down chair! (small victories are so my goal right now).
Also, I scheduled my first PT visit for next Thursday and may be picking up a recumbent exercise bike this weekend. In the forum I joined, I saw quite a few hip replacement patients who really benefited from regular recumbent bike exercise.
I'm determined to come through this and learn whatever damn Life Lessons I'm supposed to. But at this point, it will be cold day in hell before I have the other one done (and yes, the doc says it will need it too).
*********************************************************
December 31, 2011
Because my OS has said I have 'no restrictions', there's a huge part of me that feels I should be doing more. I am trying to remind myself that my body has been through MAJOR surgery and I still need to take care of me for a while. Which means lots of rest and naps.
I have been able to shower without assistance – standing up too – so that felt good. Still longing for a nice hot bath though.
I also slept in my own bed last night (rather than the recliner downstairs). Was surprised to find it still to be a challenge for me – given I'm a side sleeper. Definitely can't sleep on my right side at all yet but was able to lay for about 30 minutes on my left side with a knee pillow.
I found that really the only way I was comfortable enough to sleep for an extended period was to put a pillow under my right knee so that it was slightly elevated. All of this is sure progress from the first night home trying to sleep in the bed and /FAILING miserably.
Took about a 100 yard stroll down my driveway and to the round-a-bout and back. Noticed a little bit of a 'click' kind of feeling in my new joint but not with every time – just when I noticed I wasn't walking as tall as I could have. Used a cane on one side and my youngest son's arm on the other, primarily for balance until I get confidence in this brand spanking new hip.
We then went for our usual Saturday errand running and it felt good just to get out of the house and do something 'normal'. I did drive (which made Ryan a bit nervous) but it was easy peasy.
All and all I'm making good progress so far.
Hoping with starting physical therapy next week, things will really start falling into their new 'normal'.
PS – It's New Year's Eve and clearly I'm not going dancing sooooo…………..
I'm splurging on some good Thai food (which Ryan is picking up for me) and watching CNN.
May all reading this find health, peace and happiness in 2012!!!
*********************************************************
January 1, 2012
I've gone and done a bad thing today; I really should NOT be doing housework of any kind and just resting and walking around the house occasionally. Yet, because I've felt so much better I couldn't resist cleaning the family room (now officially occupied by our Pug family members) as well as doing some laundry and the dishes. My incision area ached all day and I have some swelling around it – for the very first time since my surgery.
I've got a nice ice pack going with my legs up now and Ryan says he will finish the laundry.
I guess this is to be expected; two steps forward and three steps back seems to be the story of my life when faced with having to nurture myself and rest.
*********************************************************
January 2, 2012
For the first time since surgery, I woke up this morning and noticed that I felt 100% better than I use to feel upon awakening pre-surgery!! The stiffness and pain that I had grown so accustomed to was gone!!
And while I'm not really dancing, it's clear that I'm solidly on the recovery road to a better life! And that's why I did this.
I also started my spiritual e-course today. You can read more about that here if you're interested.
Spent most of the day reading, relaxing and digging deeply into my spiritual journey. Trying hard not to do what I did yesterday.
Energy and stamina is still very low. Working hard to build up my strength by allowing proper healing to occur.
*********************************************************
January 3, 2012
Well…. another milestone for me today.
With my incision fully healed, I ran a nice hot bath and soaked all my cares away! I have a nice, deep tub which leaves me quite buoyant so getting out was easy peezy.
And my new temporary housekeeper starts tomorrow.
And when my mechanic shop heard about my surgery, they are picking up my car for service and returning it to me to save me the trip.
Feeling quite accomplished at the moment. Am still taking it very easy as I know I'm prone to overdue things. The bath itself was quite exhausting (probably because I was fretting about it so much!) so I'm going to take a nap and watch a little television.
After a brief rest, I went for a walk today too. By myself and no cane or anything. Went a little further than before but was pretty darn tired when I got back.
I also got my first disability check today so I drove to the credit union ATM and then stopped by the store to get a new mop. And darned if I didn't need to use the electronic shopping cart.
Never, ever did I imagine using one of those. I now have so much empathy for anyone who does.
Slowly but surely, I'm healing.
Found out that I run out of EIB (extended illness bank) and PTO (paid time off) the week of the 16th so it's back to work for me part time beginning that week. I can't afford to live on the 60% of my salary that my short term disability coverage provides. Hopefully my stamina will have returned by then.
*********************************************************
January 4, 2012
No real big milestones today; rained pretty much all day. The car did get to the shop and at first they couldn't find Matt's Angel of Dreams medallion. After a bit more looking, they located it. Whew….. I'm so relieved they found it for him – I know it means a lot to him.
I started to go see a movie but when I got there, they had technical difficulties and cancelled the showing. Took that to be a direct message from On High that I had no business being out and about like that soooooo……. I came home.
My appetite is back – that's a double edged sword.
Physical therapy starts tomorrow; am excited about seeing how that goes.
Sleeping is still hit and miss. Can't sleep for very long on my side and that's how I like to sleep. I'm sure that will get better over time.
Very blessed to participate in Beyond Recovery: The 12 Steps As Spiritual Practice Am tracking what resonates with that here.
*********************************************************
January 5, 2012, 12:45 AM
Early AM on the 5th and I'm gripped with insomnia. I read somewhere that going off pain medication can cause that so I'm wondering if I'm not doing myself any favors by not taking my pain meds? While I can definitely say I'm not pain free, I just don't feel right taking the pain meds the way they are prescribed if the pain is tolerable? I do have a high threshold for pain which I think is not helping me right now.
I NEED SLEEP
*********************************************************
January 5, 2012, 4:00 PM
Took two pain pills and finally fell asleep about 2 AM. Physical therapy went well. Right gluteous muscles are very weak and I learned some exercises to help strengthen those. I also might have an irritated tendon in my right groin. The fun never ends.
Saw a movie ("Girl With The Dragon Tattoo") after physical therapy and then shipped a box off to Matt.
I'm exhausted.
*********************************************************
January 6, 2012, 4:00 PM
Ryan has today off so we decided to make it a movie marathon day. We had lunch at Johnny Rockets. My mechanic – Central Avenue Automotive – gave me a gift certificate for Regal so we decided to see Mission Impossible: Ghost Protocol and Sherlock Holmes: A Game of Shadows. Both were pretty good.
I came home and took a nice hot bath. All in all it was a really nice day, especially nice to see movies with Ryan again.
*********************************************************
January 7, 2012, 4:00 PM
No real milestones today although I did sleep until 10:30 AM with closing my window blinds and bathroom door (that prevents the daylight from streaming in and is what I 'normally' do on the weekends).
Ryan and I installed the replacement printer but I still have to set up the wireless printing connection. Stamina is better than a week ago but no where near normal.
New dog gate arrived but will have to wait until tomorrow to install.
Fell asleep in recliner with head leaning on bent arm; ugh……… arm felt stiff and tingly as if it had fallen asleep itself.
Going to bed early tonight so I can try and catch up on the missed sleep from the nights of insomnia last week.
*********************************************************
January 8, 2012, 4:00 PM
New dog gate installed – with Ryan's patient help. Much easier for me to get down to the family/laundry/downstairs bath rooms.
Still very, very tired. Taking a hot bath and going to bed early tonight. One more week of rest before I have to return to work.
*********************************************************
January 10, 2012, 4:00 PM
Am in the fourth week post surgery and for some reason I'm struggling a bit.
I know I should be walking more but I find it difficult to get going.
Not sure what this is all about.
Today I need to deposit my second disability check and get a birthday card for my sister.
I also hate my hair color so I may have to fix that before returning to work.
Trying hard not to be a burden to anyone.
UPDATE 8:15 PM – I am having quite a bit of pain in my right groin area. Appears I may have Iliopsoas Tendinitis which occurs relatively often following hip surgery from what I understand. I think getting in and out of my BMW makes it worse so no more driving that car for me for a while.
Got a refill on my pain meds yesterday so at least I can get some relief.
*********************************************************
January 11, 2012, 4:00 PM
With the pain in my groin dissipating, I made a point of taking it very easy today. Only did a few stretches to be sure I don't continue to aggravate it.
Mentally preparing to go back to work – part time (and from home) next Monday.
All in all I think I'm doing quite well.
*********************************************************
January 12, 2012, 4:00 PM
Three weeks and three days post surgery and I styled my hair for the first time after washing it. Previously I have just washed it and let it dry naturally curly – which isn't my best look for sure. I also took the time to put on makeup for the first time as well. Amazing how much better I feel.
Went to Covington to send my sister's package with all of my Dad's photos digitized. Sent a note to an old friend I found online – am hoping it's the right old friend! LOL
Sun is out so I went for a walk today; walking further than I have before. Trying to gradually build up my stamina as well as my leg and hip muscles. Am hoping I don't aggravate my iliopsoas tendinitis.
*********************************************************
January 13, 2012
Groin pain seems to be subsiding. Trying to avoid movements that cause my right leg muscles to feel strained as that seems to cause it to flare up.
Couldn't fall asleep so I ended up channel surfing until 3 AM. ugh………….
I've never, ever had a problem sleeping but for whatever reason, find myself lying in bed, flipping through tv channels trying to get to sleep. Last night I finally slipped off around 3 AM.
What's so scary to me about it is I simply can't function without a minimum of six hours sleep and I'm suppose to start back to work on Tuesday. Yes, it is only four hours a day and I'll be working from home the first week, but I really need to figure out this insomnia issue so I can function.
I'm thinking it's because I'm just lying/sitting around most of the time trying to allow my body to heal. I'm use to working myself to near exhaustion with either work related projects or house maintenance/improvement projects. Wish I could say I'm an exercise fanatic of some sort but the truth is, the only exercise I've ever enjoyed is riding my bike and that's just not possible now until I have more confidence in my new hip and the weather improves.
Patience has never been a strong point for me, and it's what I need most now.
*********************************************************
January 16, 2012
Four weeks ago today I had my hip surgery. Start back to work part time from home tomorrow. Then easing my way back to full time in the office by Jan 30th. Not because I'm ready, but because I don't have any more sick/vacation time and I can't live on 60% of my salary and keep my house.
Sleeping is kind of a hit and miss experience. Some nights I sleep fine; other nights I really struggle to get to sleep.
My hip is sore but tolerable. I'm counting on getting better despite having to go back to work.
*********************************************************
January 17, 2012
First, today is my sister's birthday – Happy Birthday Regina!
It is also my first official day back to work. Even though I'm working part time and from home, I was pretty much exhausted after my first hour long meeting. Of course, it was with my wonderful staff member who took over many of my responsibilities in my absence so it was filled with all of the usual political challenges but whew……..
*********************************************************
January 17, 18 & 19, 2012
Two days of ER visits; two shoulders dislocated and one seizure for my beloved Ryan. Stress is a major trigger for him and it's been pretty darn stressful for him at work and then the power failure. I'm sure that's what caused his seizure. He's been three months seizure free so we were both pretty disappointed. The orthopedic surgeon won't fix his shoulders until he's six months seizure free.
Snow and freezing rain has caused significant chaos. My front yard tree has been pulled up by the roots and is listing something awful. Don't think it will survive this.
Power out at house this morning (which means no heat); am grateful it was back on when we got home and the heater was going.
Main highway to ER closed completely; took 2 hours to get home from ER today.
I'm effing exhausted.
And Ryan is the bravest Soul I have ever known. He has taught me so much about courage and compassion.
*********************************************************
January 22, 2012
After what truly was a week from hell, Ryan and I were able to get away and see a movie and have lunch at Johnny Rockets. It is something we use to do quite frequently and I've missed it so much. It's one more step on my path to my 'new normal'.
I neglected to take my meds yesterday and today my iliopsoas tendinitis is flaring up something awful. There's a lot to be said about being diligent about taking medication – and I'm paying the price today.
*********************************************************
January 23, 2012
Back to the office for the first time tomorrow. I'm driving in (rather than taking the train) primarily because I have quite a bit of work things to take in and, just to give myself every opportunity to ease my way back into the commuter rhythm.
My iliopsoas tendinitis has eased quite a bit which is a good thing.
I will be taking one crutch with me because I tend to limp when I get tired and I have no doubt I'll be pretty tired after a few hours.
The good news is there have been a few moments in the last two days where I didn't notice and didn't think about my hip. I think this is a very good sign.
Saying a prayer for a successful return to work day tomorrow!
*********************************************************
January 24, 2012
First day back in the office. I drove in and took one crutch with me. I made it until 4:00 PM before I was totally exhausted.
It was good to get back though. I have such a great team of people. We had our regular team meeting this afternoon and they gave me a nice card and plant.
Looking forward to working from home tomorrow though.
With that, I'm going to take a nice hot bath and go to bed.
*********************************************************
January 25, 2012
Let's see, one full day in the office and 1.5 weeks working from home – and I'm ready to get my other hip replaced.
Corporate dysfunction makes me wonder why I am doing what I'm doing. I know everything happens for a reason – including my taking this job a little over a year ago (with a pay cut no less) but it's incredibly hard to see exactly why – at least at this moment.
Tomorrow is day two in the office and I know I need to keep calm and maintain my focus. I'm taking my amethyst mala beads with me.
I'm sure I'll need them for a few moments throughout the day.
*********************************************************
January 29, 2012
Tomorrow will be exactly six weeks since my hip surgery. I can honestly say that this has been the most humbling experience of my life so far. It has also been the most revealing experience with respect to the relationship I have with Matt and Ryan.
And I've been doing a lot of reflecting on my own relationship with my parents; it has helped put what has occurred with my sons in perspective.
As for my hip, it's definitely healing ever so slowly. I so wish I had more time to stay home but if I were to take more time, I risk losing my house as I can't live on my short term disability income.
I will do what I've always done and that is take one day at a time, rely on lots of hot baths and dig ever deeper into my spiritual journey. For now, I'm lighting lots of extra candles and saying lots of prayers that I can find the stamina to get through this next week.
*********************************************************
January 30, 2012
First day back full time and it was simply awful.
Nothing has been accomplished in the six weeks I've been gone and it's even more dysfunctional than ever.
That combined with a nasty interaction I had with the VP and honestly, I'm ready for hip # 2 and both knees to be done just so I don't have to deal with this crap.
/rant off
Truly………………. I need a real career doing something I love; not something that I've found myself doing because it pays my mortgage.
How the hell do I do that at almost 58?????
*********************************************************
January 31, 2012
Day two back in the office full time. And today I took the train into work.
Got my new chair and it's awesome! Totally different and very ergonomically supportive of my hip.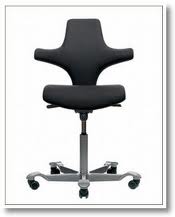 By 3:30 PM I was totally and completely exhausted – but had no opportunity to leave early. It's only Tuesday and I'm dead tired.
Going to take a hot bath and go to bed.
*********************************************************
February 1, 2012
I'm so damn exhausted. Drove to work today after commuting by train/bus yesterday because I simply couldn't imagine walking that far again so soon.
I sure hope my stamina comes back sometime very, very soon or I'm really going to be struggling.
*********************************************************
February 4, 2012
First full week back to work, full time and it was about what I expected. By about 3:30 each day I felt completely depleted. Struggled through the rest of the day, came home and fell into bed. If the stars were aligned, I slept through the night. But more often than not, the stars weren't aligned and I woke up at odd hours. This didn't make for a very restful night's sleep.
Another milestone today – one day short of 7 weeks post op – I rode my beautiful bike for the first time! I went around our neighborhood and made it all the way up my long driveway. Felt so good to do something I love so much!
Came home and vacuumed the living room. Now I'm resting because my piriformis syndrome has come back. It's literally a real pain in the butt!
Tomorrow I go to see my orthopedic surgeon for six weeks follow up visit.
*********************************************************
February 6, 2012
Seven weeks ago today I had my surgery. All things considered, I think I'm doing quite well. Every now and then I'll have my iliopsoas tendinitis or my piriformis syndrome flare up but with the appropriate stretches, I'm back to normal within a day or two. I still have some numbness on my left elbow area (from how they had me placed on the operating table) and there's some numbness around the incision.
I am walking unaided now and am not using any of the home medical equipment other than the bathtub support that gives me something to hold on to when I get in and out of the tub/shower. I sleep relatively well at night and am rarely using the prescription pain meds. I do take extra strength Tylenol pretty regularly, from what I've read, that's to be expected for a while.
I'm back to work full time and even though my stamina is still in recovery, I am able to work through the day without too much pain or exhaustion.
My orthopedic surgeon today said he really likes what he sees on the x-ray – the bone is now growing very well into the hip prothesis and things look really good. He doesn't need to see me for a year. He also said my other help doesn't look too awful bad yet either. Both of us are hoping I can make it a full year before needing that hip done.
A very successful outcome so far indeed!
*********************************************************
February 11, 2012
Finally received the x-rays of my hip that I've been waiting for. Here's the before x-ray, taken Nov 4, 2011.
And here it is after. Imagine dislocating my hip, sawing off the top of my femur, cleaning out the socket, inserting the prosthesis into the femur bone…. whew…. it's no wonder there is so much pain associated with this surgery.
*********************************************************
February 15, 2012
Eight weeks ago yesterday was my surgery. And yesterday was an extremely difficult day due to pain. I forgot my normal meds in the morning (which includes my anti-inflammatory) and took the train to work. All of that walking plus not have anything for pain made the day miserable.
Of course, it didn't help that work has gotten even more chaotic than it ever was.
I slept a full 8 hours last night though and that was good.
*********************************************************
February 26, 2012
Ten weeks ago tomorrow I had hip surgery.
Been back to work now four full weeks now.
My right hip is sore sometimes; especially when I forget to take my daily meds/supplements.
Matt ignores emails and txt messages as well as FB messages now. I'm done. It hurts something awful but I can't deny that he just doesn't want/need me in his life any longer.
The natural progression of life I suppose.
I've deactivated my FB account – Ryan lives with me and we are still close – thank goodness.
Friends who really care will contact me if they want to stay in touch. Those who don't….. well….. that says something right there.
Work is a huge challenge and I'm trying very hard to stay focused and keep my team's morale as up beat as possible. That, in and of itself, is a huge challenge.
I've reconnected with Chris Brogaard – via email anyway. She sounds like she has a wonderful partner and life now.
*sigh*
I need to find someone.
*********************************************************
March 18, 2012
Tomorrow will be 13 weeks since surgery and I'm a bit dismayed at the level of daily physical discomfort.
My right leg is very weak and the inner groin area is pretty painful most of the time. Sitting for a long time makes it worse, but I don't notice it until I stand up. Is this chronic Iliopsoas Tendinitis?
My left hip is painful and causing quite a bit of stiffness, especially in the morning or after sitting for a long time.
I'm wondering if this is simply what it feels like to be almost 58 years old, or if I can make it another year and get my left hip done, will have have pain free days?
I know I have a high pain threshold but being in chronic pain is exhausting, and very depressing.
*********************************************************
March 18, 2012
I contacted my surgeon's office and told them about this constant pain and they said they should see me. So my appointment is this coming Friday.
Today's pain is worse than it's been – I'm exhausted and cranky.
Going to take a hot bath and lay down – laying down is the only time it doesn't hurt.
*********************************************************
May 1, 2012
It's been about 4.5 months since surgery and my Iliopsoas Tendinitis is slowly getting better. There are days when it flares up but I can tell it's getting better.
Now for the bad news………. my left hip is starting to be painful all the time. It kept me awake last night.
I'm so hoping I can hold out until December again. I simple can't face surgery again so soon.
*********************************************************
June 3, 2012
It's been about 5.5 months since surgery and my Iliopsoas Tendinitis has gotten significantly worse. I finally went to another orthopedic surgeon for a second opinion and finally, I'm being sent for a shot in the tendon that – hopefully – will make it less painful.
Keeping my fingers crossed!
*********************************************************
June 4, 2012 – 12 AM or so
In preparing for my injection, I found this terrific 2010 study encouraging.
Iliopsoas_Tendinitis_Injection_Study
*********************************************************
June 4, 2012 – 8:30 PM
Radiologist used a CT scan to do the injection. He was very kind and thorough – a very positive experience.
My hip feels perfectly normal – no pain whatsoever.
I do have a massive headache and stomach acid – which he told me might happen. Some tums and extra strength tylenol ought to do the trick.
With that, I'm going to take a hot bath and go to bed knowing that when I wake up, my right hip will be completely pain free (I hope!)
*********************************************************
June 12, 2012 – 8:30 PM
Groin pain is almost non-existent now. Every now and then I'll feel a little pang but it's tolerable. Had a headache for a few days immediately following the shot but other than that, I'm so deeply grateful to be pain free – finally.
Will be praying it lasts – at least a while anyway.
*********************************************************
December 20, 2012
Yesterday was the one year anniversary of my hip replacement and I have to say that I'm doing A-OK, physically.
Emotionally – it was an incredibly rough process to realize that how hard it was for Matt to care for me with a loving, compassionate heart.
Spiritually – I've only begun to process. It's clear that what I did to Matt growing up – all the yelling etc – created tremendous karma that will likely take a few lifetimes to work through.
Blessings all on this 20th day of December, 2012.