June 3, 2016
We began our European adventure today. Flight to MSP – we had the bulkhead seats – lots of leg room but we all found the seats too small.
MSP to Albany – nice flight. Drinks with Matt once we checked in were interesting.
We're in Albany tomorrow; seeing Vincent and Regina's resting place, seeing a movie, and picking up an HDMI cable so we can watch Game of Thrones Sunday.
Pics from the start of our journey in Seattle.
Ryan on the Seattle to MSP leg of the journey.
We arrived in Albany close to 11:30 PM on June 3rd.
We stayed at the Residence Inn in Clifton Park, NY so we could visit Vincent and Regina.
June 4, 2016
Today we went to visit Regina and Vincent's resting place. It was beautiful, serene, and wonderful to see the final, engraved niche stone with their photo.
Ryan wasn't very comfortable being there; he has a rough time with it still.
We brought some flowers to Regina and Vincent's resting place.
This afternoon we went to see X-Men: Apocalypse in the theatre and then we went out to dinner.
Dinner was a bit intense as Ryan and Matt have some long-standing issues that have built up over time.
*sigh*
Here are a couple of pics of Ryan at the mall in Albany, NY.
We leave for Connecticut tomorrow. We will be visiting my cousin and seeing where my Dad grew up.
June 5, 2016
We drove from Albany, NY to Guilford, Connecticut to visit with my cousin Suzanne Conlon and her husband Dave. They have a lovely home and we all enjoyed a very nice visit.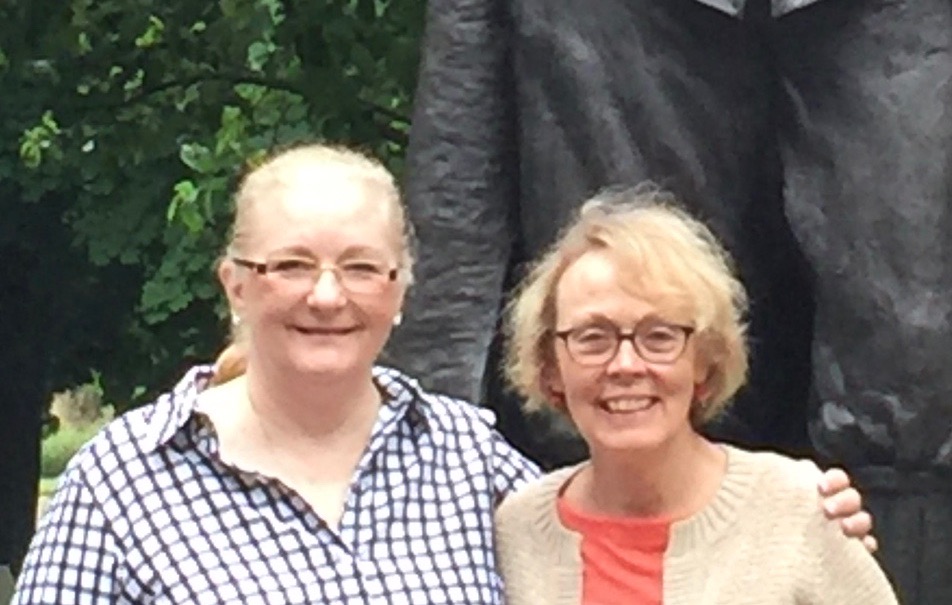 They took us on a tour of their town. This is the marina.
These are taken on the grounds of the oldest building in New England located in Guilford, CT.
I wanted to see the last home my Dad – John Joseph Connolly – lived in so Suzanne and Dave took us there. This is a pic of my dad's last family home in New Haven, CT; specifically, 142 Norton Street. It wasn't a duplex when he lived there.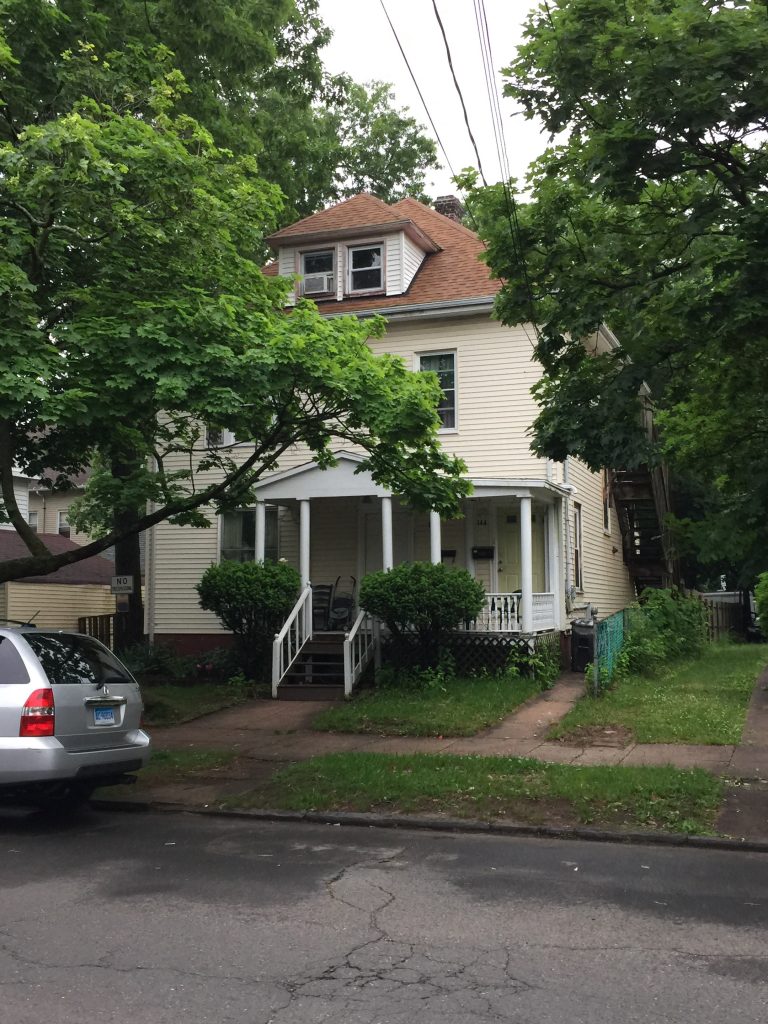 Another pic of my dad's home in New Haven, CT.
June 6, 2016 – Leaving for Europe!
The sunset was extraordinary when we were taking off from JFK in New York.
The Air France plane had cameras strategically placed so we could watch the flight; this is the view of our taking off from JFK.
After flying for 7+ hours, we landed in Paris for a brief layover.
This is a photo of Ryan on the Paris to Dublin flight; he lacked sleep, obviously.
June 7, 2016 – We're in Ireland!
Renting the car in Ireland was a bit of a fiasco. Hertz in Dublin is chaotic, at best. Once we got our car, we made a circular trip around the airport as I couldn't figure out the roads, or the car. After that, we were on our way. The mobile WIFI worked great at getting us close to our cottage. However, we did have to call and get a step-by-step with the care-taker until we found the gate.
Our 'home base' in Ireland is a beach cottage just north of Dublin. The grounds are lovely; this is a water feature directly across from our cottage entrance.
Here's a pic of the front of our cottage right next to the beach.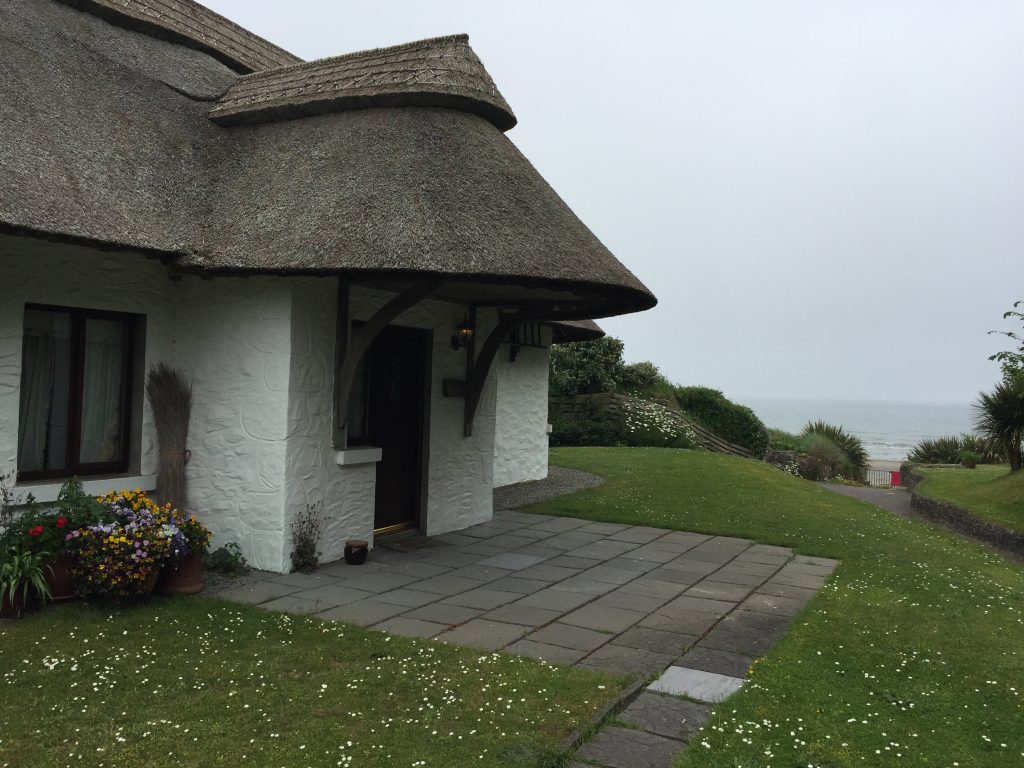 This is a pic of the beach/ocean from the dining room inside our Ireland cottage.
We all slept pretty late the next day as we were adjusting to the time change. Once we got started, it was quite a challenge trying to find our way to a Game of Throne's filming location without the benefit of a formal tour.
We finally pulled over and asked a wonderful elderly woman mowing her lawn; she was so very friendly and helpful. She walked up to her home and brought us a collection of maps and gave us directions to the main road. After searching for a bit, we finally gave up and decided to arrange a formal tour for Friday, June 10th. In the meantime, we did a bit of exploring Northern Ireland. Here are a few pics from that day.
June 11, 2016
Official Game of Thrones filming location tour today. Bus itself was miserable as the seats didn't give any of us enough leg room. Fortunately we were each able to take up two seats. Even doing that, the bus ride itself was miserable.
The tour bus went up from Dublin to the very tip of Northern Ireland. The landscape and view were beautiful!
This is the place where the Kings Road is filmed when Arya makes her excape.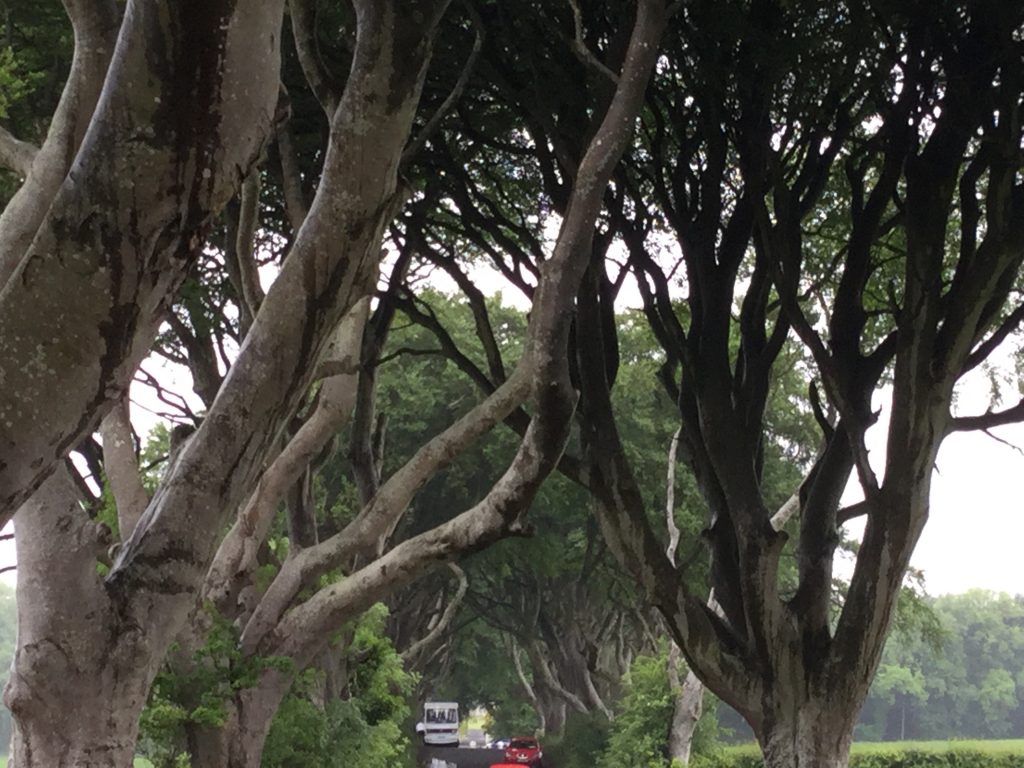 This is Ryan exploring a Game of Thrones filming location.
Here's where the Pikes episodes of Game of Thrones was filmed.
This is the location where Melisandre, the Red Priest, gave birth on Game of Thrones.
June 12, 2015
The next day, we decided to drive to Cork and visit Blarney Castle. Here's some pics from the Blarney Castle.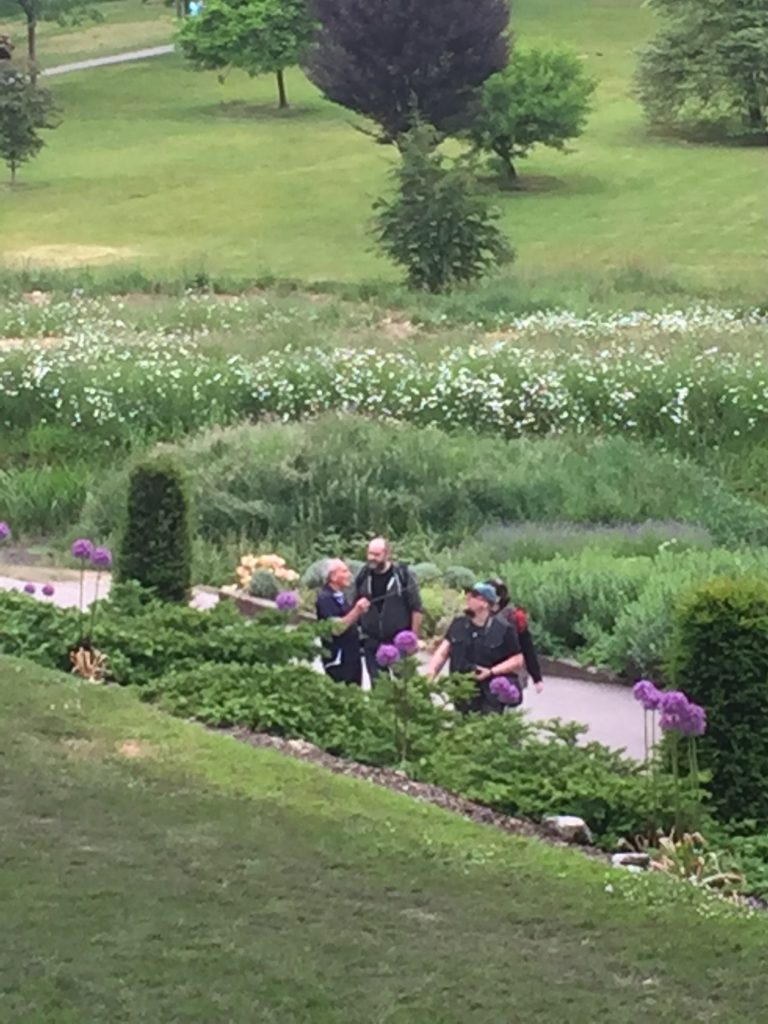 I was pretty exhausted so Matt drove part of the way home from the Blarney castle.
June 12, 2016
What an absolutely amazing day! We went on what felt like a wild goose chase looking for the First Generation of my Connolly ancestor's grave marker in Mohill, Ireland.
After almost giving up, I found a photo of it online. I then reread the information my cousin Stephen B. Connolly sent me and we headed off to Drumlea Ireland. How hard could it be to find the "Old Cemetery" in Drumlea?
We saw a gentleman (Kieran Holohan) in his yard as we entered the village so we pulled over and asked him to point us to the "Old Cemetery". I showed him the "Descendants of John Connolly" documents I had as well as the photo of the headstone. He pointed us to the little road beside the church down the road and we headed off.
We found our First Generation (as far as we've traced) Connolly resting place; the headstone of both John Connolly and his wife Mary (Cannon).
We took many photos and videos and were relishing our success and along comes a car with Kieran, the nice man who pointed us in the right direction. He waves and shouts "I have a Connolly man here".
Low and behold it was "Bennie Connolly". On page 3 of the document from my cousin Steve, his father is shown as (–?–) and is number 8 in Generation Three.
Turns out Bennie's dad's name was "Bernard" and was also known as "Bennie" so we can fill in that question mark. His mother's name was Kathleen McKeon. So we have these two new additions to add to this genealogy information from my cousin Steve. It was such a wonderful experience to meet Bennie Connolly today!
Here are some pics of Bennie and me; I just wanted to hug him!
That was just the beginning. Kieran (who guided us to the cemetery) and I were chatting. I showed him the information from my grandmother's side of the family; her name was Nellie Cassels. He thought one of his neighbor's may know something about the Cassels. Sure enough, she was able to find Thomas Cassels in the phone book and we called him. Thomas is my grandmother's nephew. We got directions to his home (which he has lived in his entire life). We spent some time chatting and enjoying hearing all about his life there. It was an absolutely amazing experience.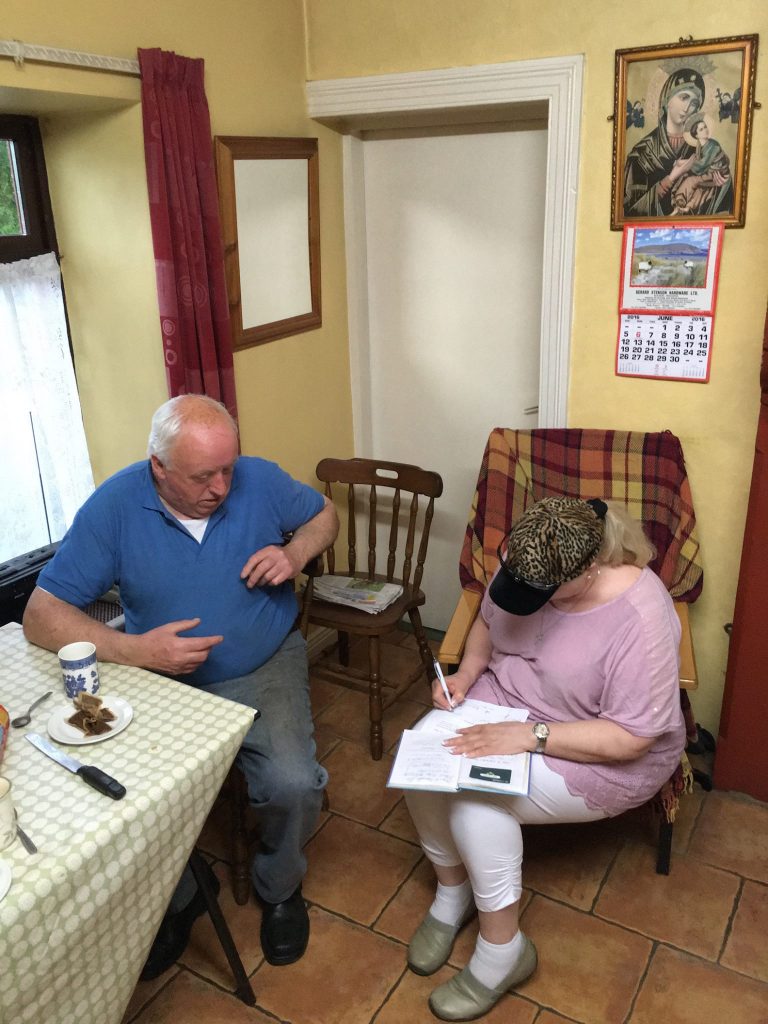 My son Matt filmed the entire afternoon and will be putting together a nice little history piece for me. I'll share that when it is ready.
Blessings abound today, for sure!
June 13, 2016
Today we visited with James Connolly (Bennie's brother), and his wife Mary, and sister May. They are such warm and friendly people! We spent the entire afternoon chatting and enjoying their warm hospitality. They live near Ashbourne, Ireland. They have a mule that loved both Ryan and Matt, as well as horses and chickens. We talked about our families, US politics (all agreed our country has gone mad), while enjoying a lovely lunch.
Imagine my delight in meeting relatives on this leg of our European adventure! I honestly was grateful to find the headstone. To find some relatives means the world to me!
We travel tomorrow to Aberdeen, Scotland where Matt has some friends from his Brazilian Jiu Jitsu club. We'll be there two days and then we're off to London for a brief visit.
June 14, 2016 – Scotland
We enjoyed a wonderful breakfast at a Brazilian restaurant.
Matt was able to enjoy some time away with his BJJ academy friends. They put him through the paces.
We then headed off to Dunnottar Castle – about a 30 minute drive from our Aberdeen, Scotland apartment. The day was very cold and windy, but well worth the effort. Absolutely stunning; and very hard to imagine how they built it.
We're off to London tomorrow.
June 16, 2016
After two near miss automobile accidents in Scotland while on the way to the airport, we arrived in London. We decided not to rent a car here given 1) there's no parking near the apartment we rented, and 2) I'm an accident looking for a place to happen, obviously.
We got our Heathrow Express tickets and then grabbed a cab from Paddington station. After settling in and finding the WiFi at the apartment less than we expected, we decided to head out for our Underground (Tube) adventure. Matthew's friend Nigel gave us a great recommendation in Camden Town and we found it with only one mishap (I tripped and fell so hard it knocked the air out of me).
Ugh…..
Dinner was GREAT! (thanks Nigel!)
We then mapped out our way home only to change plans after talking to one of the Underground workers who convinced us the route they proposed was going to be 'shorter'. Once we arrived, we realized we 1) had no idea where we were, and 2) really didn't want to walk what appeared to be more than a mile to our flat when it was close to midnight. Matt hailed a cab and we arrived back at our flat without a glitch.
Ryan wasn't very happy with the whole evening; he's not comfortable being in a strange place and not knowing exactly what/where/how things will play out. Hopefully the next two days go better than this evening.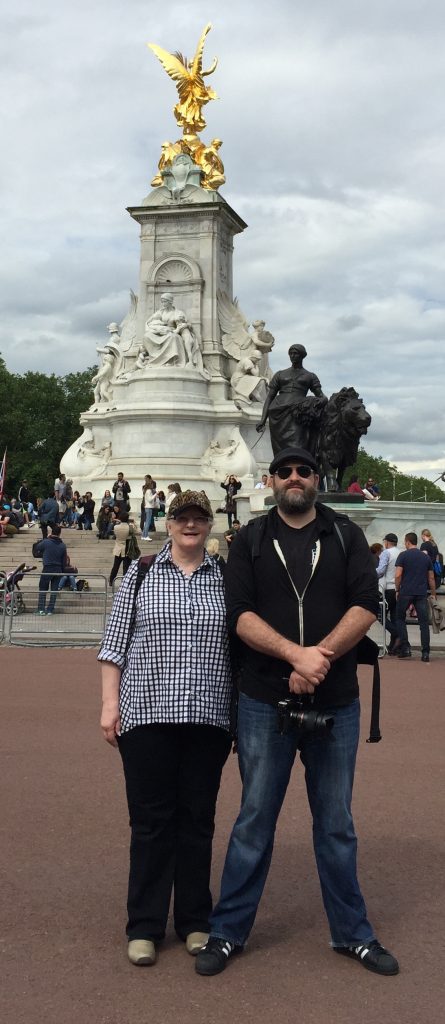 June 17, 2016
Today was our Stonehenge adventure. We took the Underground to Waterloo, and then we took the National Rail Service train to Salisbury. A Stonehenge tour bus picked us up right at the Salisbury train station. Ryan has had a rough time with the Underground transportation here – if he can't focus on something outside of the moving transport, he gets motion sickness. That really helps me understand why he's struggled so much with it.
But today we spent the majority of our time on the National Rail train; it was a very nice trip.
Stonehenge has changed so much since I first saw it in the early 1990's. There's a huge visitor center and ropes that prevent you from getting too close. But it is still a magical place. Here are a few pics.
After our visit to Stonehenge, we explored Salisbury. We found the best Italian restaurant and enjoyed a wonderful meal!
We then went and explored the cathedral – breathtakingly beautiful!
Tomorrow we are off to Rome!
June 18, 2016
The flight to Rome was very nice; KLM seating is far more comfortable than any airline in the US.
We arrived at our beautiful, luxury apartment after being met by our driver at the airport. The driver didn't have much to say at all, so we didn't get an overwhelming feeling of warmth off the bat. But Eduardo, who owns the apartment we are renting was terrific. The apartment itself is located in what appears to be a central area of the city itself. There are stores and restaurants easily within walking distance, as well as a taxi pick-up stand.
We enjoyed a lovely meal at the restaurant just outside our apartment's front door the first night. This is the menu.
Just above our table, was a shirt-less man hanging out his window.
June 19, 2016
We all slept in and once ready, we headed out to explore.
We enjoyed some lunch and then spent some time walking around before heading off to our tour of the Colosseum. Matt bought some new sunglasses (his broke in Stonehenge), and I bought some new sandals. We also found a pharmacy where Matt got some cream for his rash spot he seems to have acquired in Scotland.
We then found our way to the Taxis and headed off to the 'private' tour meeting place. When I say 'private tour', I mean we were the only members of the tour group and we had the tour guide – Luca – dedicated to us. Luca was terrific and we were able to learn a lot about the Colosseum and surrounding forum ruins. We even ended the tour itself by laying a rose at Julius Caesar's gravesite.
This is a picture of Ryan with Luca, our tour guide.
Here's a family photo at the Colosseum.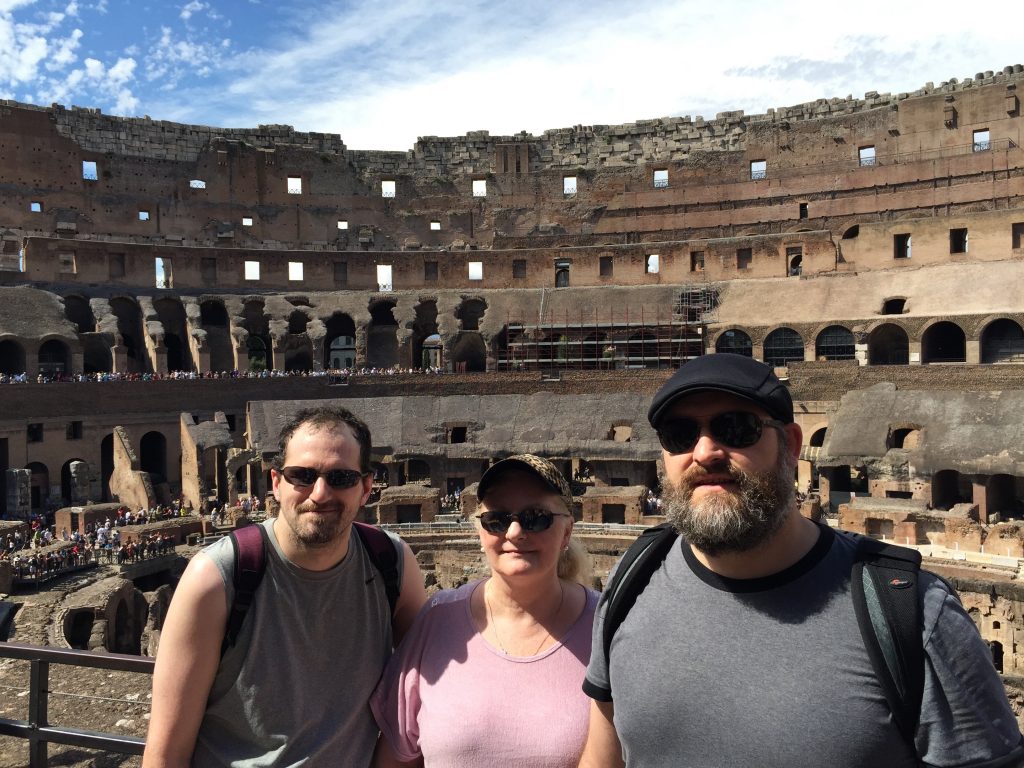 This is a shot of what the Colosseum floor looked liked originally. It was made of wood and the animals and gladiators were kept beneath the floor and were lifted up to the floor via pulleys manned by slaves.
The interior ceiling of the Colosseum was originally very ornate and beautiful. Here's what remains of the original ceiling. What we learned is when the Christians took over, anything that wasn't marked with a Cross was basically looted, so much of what was beautiful and ornate in the Colosseum area was taken away by the Christians and used in what was to become the Vatican.
After the Colosseum tour, we headed out and saw this arch dedicated to Titus.
This is a side view of the arch.
We then explored the forum ruins, laid a rose at the tombstone of Julius Caesar, and Ryan made friends with a very thirsty Roman sea gull.
We then had to find a taxi. My feet and legs hurt so much from all the walking. Ryan did his best impression of a crazy tourist by running after a Taxi down the middle of the street. Matt and I were laughing so much, that we didn't any photos, unfortunately. Ryan definitely got an A for effort on that one.
Back at the apartment, it was time for some laundry. I had to take photos of the dials and use Google translate to figure out which program I should use. Even doing this, I ended up putting the laundry detergent in the dryer as I thought it was the washer. No harm though as I was able to wipe it out pretty easily.
Note for anyone visiting Rome – there are very few public bathrooms. Trying to find one can prove to be a real challenge. Be prepared for that or disaster will strike.
June 20, 2016
We toured the Vatican today. I struggled all day with feeling sick. Here are some pictures I took.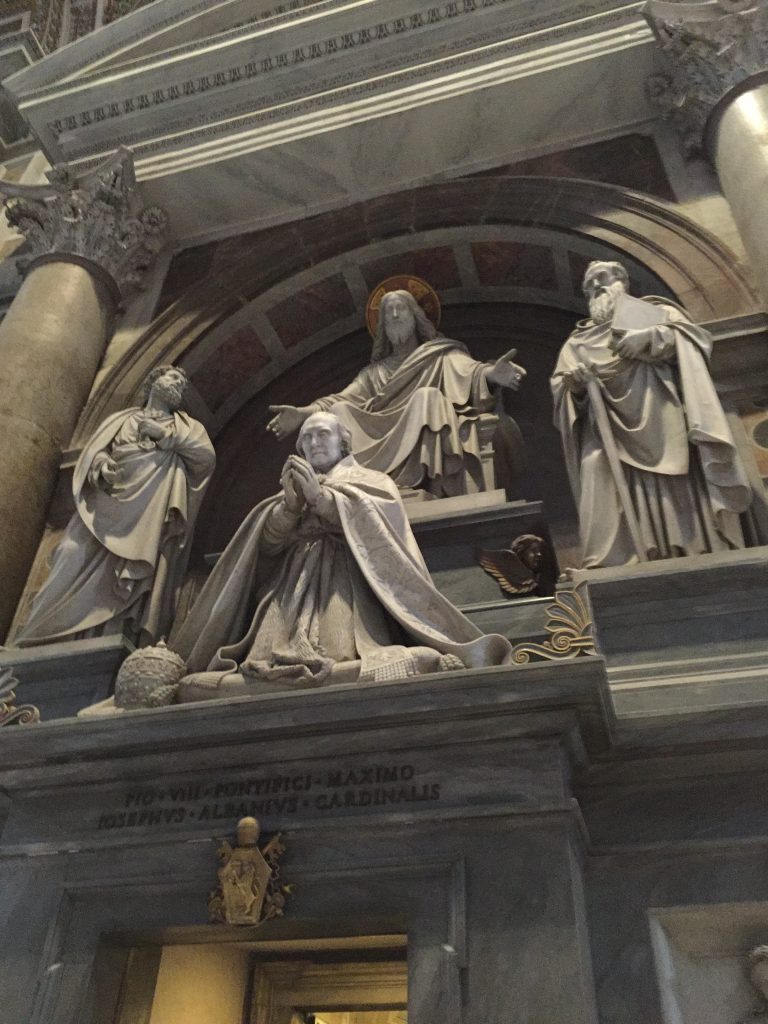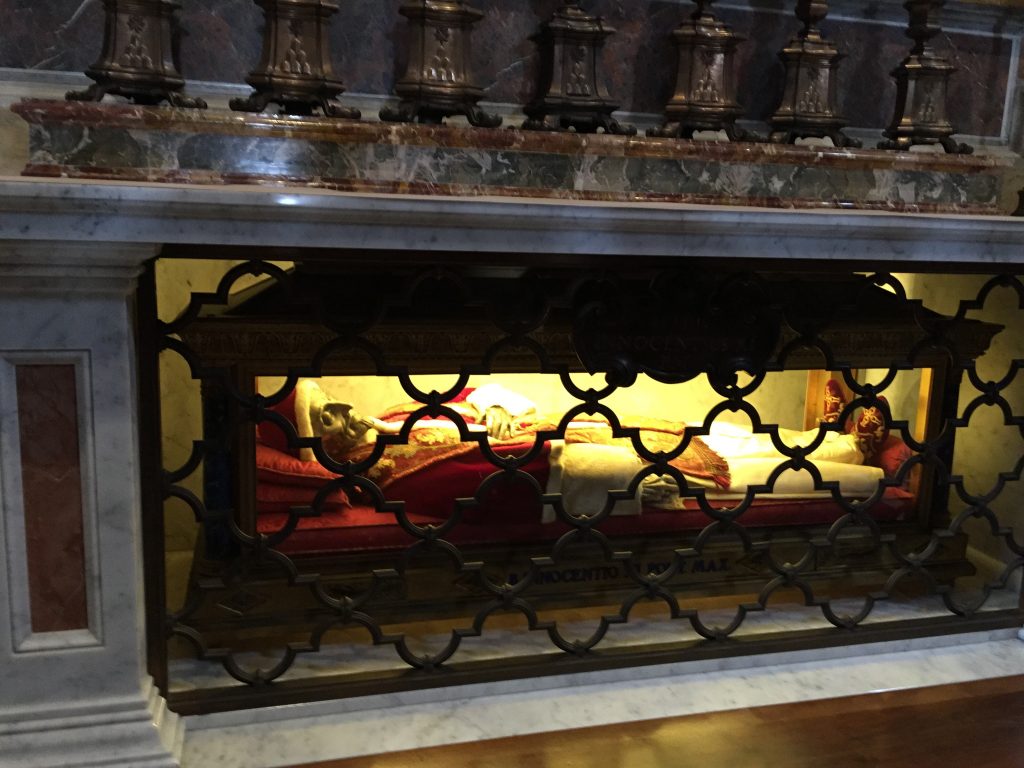 June 23, 2016
We arrived in Greece the evening of June 21st. I've been very sick since then with fever, chills, vomiting and all that goes with it. Today Matt and Ryan are on the two-day tour of Greece and I'm resting at our home-away-from-home.
And the heat here is absolutely unrelenting.
The view is amazing.