Monday, June 15, 2020
I'm going to make this my total shoulder replacement surgery recovery journal.
I'm ready. I have very little use of my right arm now. I haven't been able to do my hair or apply makeup since before Christmas!
I will be journaling my experience here, like I did for my hip replacement in 2011.
Some background information to give the full picture.
I had a arthroscopic procedure with David Kieras, MD at Virginia Mason in Federal Way, WA on my right shoulder in March of 2015 due to instability. After doing some research, I believe (mistakenly, it turns out! See below) this procedure caused the severe arthritis that I'm experiencing now.
It began September 2019. I noticed pain in my right shoulder while resting it on my office desk working from home. I also noticed a loud clicking sound coming from my right shoulder. So I made an appointment with Dr. Kieras and after looking at my x-ray, he said I needed a total shoulder replacement.
However, my granddaughter Isabella Lynne was due in October 2019 so I decided to hold off until I could participate in welcoming her to her life. We spent Christmas 2019 in Denver and then I went again in mid-January 2020 to help Matt after his knee surgery.
After consulting with Rick (Frederick) Matsen MD at the University of Washington, I decided that I wanted him to do my shoulder surgery. He's a world renown shoulder specialist and I trust him completely. He also did the bankart repair of my left shoulder around 2000.
So I scheduled the total shoulder replacement for April 7, 2020.
Then COVID-19 hit.
I know we're still fighting COVID but the hospital has started doing elective surgeries again so my total shoulder replacement is tomorrow – June 16, 2020.
I'm so ready. Anxious, but ready.
Praying for a successful surgery and healing. More to come.
Wednesday, June 17, 2020
Wow. What an amazing experience.
We arrived a little early – 8:15 AM (check in was 8:30 AM). Ryan dropped me off and after checking in, he left for home. We don't want either of us to be more exposed potentially to COVID-19 than we need to be.
They brought me back to my prep room and I undressed. The IV was started and blood drawn.
The nurse anesthetist (Brandon) came to visit and we talked about my historical reactions to anesthesia. He explained he would be using an injection rather than gas which would help with nausea. I also met with the resident surgeons as well. Dr. Matsen came to visit electronically (via iPAD) – he's at higher risk for COVID19 so he's minimizing his face-to-face interactions.
They took me back to the operating room around 10:45 and everyone was so very kind. I became a little frightened and got teary; but everyone was so reassuring. I quickly went under and next thing I know is being in the recovery room. This was about 2:00 PM. I was very, very sleepy. The recovery room was chaotic and I could tell the nurses there were stressed. I tried hard to be very kind and grateful to them all. Honestly, I felt so very grateful to be alive and in the recovery room. The physical therapist (Sarah) came in and showed me how to do the exercises – but I kept dozing off. At one point when they sounded concerned I was sleeping so much, I raised my head and with great clarity said "I haven't had a good nights sleep in months due to the shoulder pain and arthritis and last night I didn't sleep well at all worrying about surgery so please, just let me sleep". They laughed and thanked me for being so clear about my needs.
The hospital was very full and I couldn't get a bed in my unit (6SE) right away so I was in the recovery room until about 7:30 PM. Finally I got to my room and was greeted with the most wonderful nurses (Kristina, Mical and Jonathan. "Mical" was female and her name was pronounced "Michael"). The assistants were terrific too (Sarah and Amminhy). I had lots of pudding and couldn't stop commenting on how good I actually felt.
I didn't once need to use the pain pump either. I slept for a few hours, even with the oxygen alarm going off frequently. My oxygen was hovering around 91-93 (it's always about 93-94 here at home) and anything below 91 sounded the alarm. I was taught how to breathe deeply to get my oxygen up.
Dr. Matsen and all the surgeons came to visit in the morning. Dr. Matsen introduced me as his "very special patient". I felt so deeply grateful.
After a wonderful breakfast (yogurt with blueberries and kale/tomato/parmesan cheese frittata), I napped for a bit. Then had lunch (chicken pad thai and cheesecake with blueberries). The nurses took some blood and helped me get ready to go home. I was actually able to dress myself (surprise surprise).
We timed the discharge to give Ryan time to make the drive from Covington to Seattle and we got home around 6 PM.
It feels good to be home.
More tomorrow.
June 18, 2020 – 4 AM
Pain woke me up. Digestive issues too. I took two Tylenol and will wait a bit to see if those work. It's important to stay on top of the pain.
I did order a folding chair so I could do my pulley exercises.
More later.
4:35 PM
Today has been kind of rough. I created a tracking file (using Excel) to keep track of my pain meds and physical therapy. Slept for a few hours this afternoon, which was nice.
Two out of the three kidney function tests look better so I'm happy about that.
Physical therapy is hard – hurts so much. But I know it is a "good" pain so I'm doing it all.
More tomorrow.
Friday, June 19, 2020
Today was easier than yesterday. Physical therapy is painful – but it's a good pain.
I have been running a slight fever tonight (and last night). I'm waiting for a call back from the surgeon's nurse. I honestly don't think it's a big deal (100.6, 100.5, 100.4 – I took it 3 times to confirm), but the discharge instructions say to call so I called.
More on that later.
In the meantime, I have this x-ray showing my new shoulder.
And it's clear the arthroscopic procedure Dr. Kieras did in 2015 made this total shoulder replacement more complicated. Here's the Final Op report: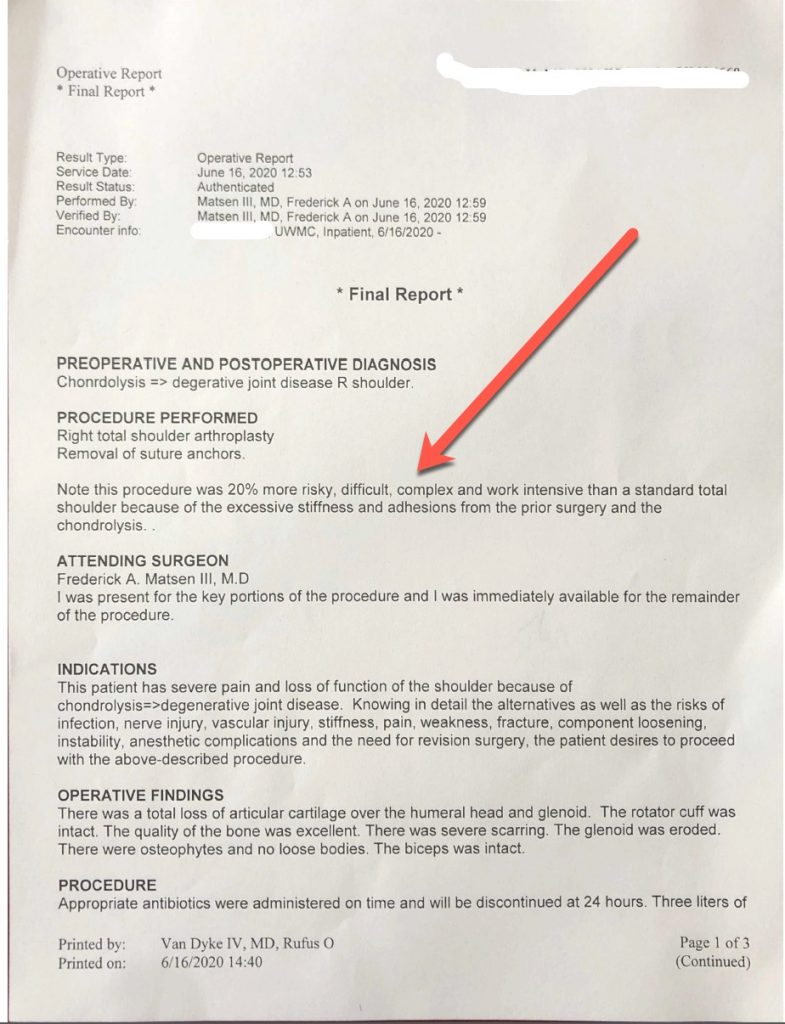 Saturday, June 20, 2020
Physical therapy hurts. That's all I'm going to say about that.
Sunday, June 21, 2020
I was able to sleep on my left side for about 2 hours last night – progress. Being a side sleeper in general, it's been rough having to sleep only on my back these last few days.
Monday, June 22, 2020
Today I realized that I'm feeling a little better every day. The over-the-door pulley exercises aren't as tough as they were initially – which is a good thing.
I have severe, sharp lower back pain that won't quit. I can't figure out if it is related to my now untreated arthritis, my spinal stenosis or just a pulled muscle of some sort (likely muscle from sitting in the damn recliner for hours on end!). The heating paid does help and I'm struggling to keep up with the physical therapy today.
8:25 PM
I will likely be in pain all day tomorrow – I can barely walk with the lower back pain. Ordered a new heating pad and hopefully it will be here tomorrow.
Two steps forward, one step back it seems.
My shoulder is actually feeling pretty good today compared to yesterday and the day before. Tomorrow will be the one week anniversary of the surgery and all and all, I am surprised at how well I'm doing.
Good night.
PS – photo of the bruises on my arm – you can see just how traumatic the whole process is to the soft tissues.
Tuesday, June 23, 2020
The lower back pain subsided overnight, thanks to the muscle relaxant I took before sleeping. I realize now that the door pulley exercises I'm doing make my lower back scream if I don't maintain the right posture.
Today feels like a step forward again.
My primary care doctor won't allow me to start the diclofenac (arthritis medication I've taken for well over a decade) until I get another kidney function blood test. The last one (while in the hospital on 6/16 showed very slight improvement. I'm drinking water like a fish so as to allow my kidneys to heal. Praying that I can take the diclofenac again soon – arthritis sucks.
One week ago today I was getting my new shoulder. So far I think it's gone better than expected (I was honestly very grateful to wake up and be cognizant after the surgery!). So very grateful to Dr. Matsen and his team for this opportunity to get some semblance of my life back.
Speaking of Dr. Matsen, I sent the Final Report to Dr. Kieras noting that I thought maybe the procedure he did in 2015 led to the abrupt loss of cartilage in my right shoulder. He responded quickly with this letter:
I was quite relieved honestly – it was really bothering me to think that Dr. Kieras – who did his residency under Dr. Matsen at UWMC – would do anything to cause the kind of rapid deterioration I experienced. I shared this letter with Dr. Matsen who responded with "very helpful – thank you!".
Wednesday, June 24, 2020
Last evening my temperature spiked to 103.4. Chills and body aches too. It began to go down after taking my Tylenol dose around 9 PM.
This morning I woke up to feeling exhausted. Temperature was 99.3 and just now (12:30 PM) it was 98.7.
I've been in bed all morning, mostly sleeping.
After communicating with both my surgeon and primary care doctor, we've agreed to watch it today and I may need to see someone if it spikes again.
6:45 PM
My temperature today has hovered between 98.7 and 100.2. After the 3 PM 100.2 temperature reading, I took my Tylenol and it never got any higher. I did have some diarrhea today so I'm wondering if I'm battling some sort of flu bug?
My asthma means I have a persistent cough – which doesn't bode well when talking to physicians about a temperature and cough due to worries about COVID19. I did have a negative COVID19 test on June 14, 2020 (the Sunday before surgery on Tuesday) per the standard pre-surgical protocol required by my shoulder surgeon.
Thursday, June 25, 2020
I slept well last night and feel better today. I learned late yesterday that the 1992 Toyota Motorhome I put on consignment sold – for full asking price. Yippee! That means that we are that much closer to having enough down payment to buy a place in Denver.
4:17 PM
I did a few pulley exercises today and so far, my lower back is OK. Critical that I sit up straight and hold stomach muscles in when I do those.
After doing 3 sets of the pulley exercises, my lower back is screaming again. It's clear I need to use more caution when doing these specific exercises.
My shoulder is sore today for some reason. And after eating some cantaloupe for breakfast, my diarrhea returned. Ugh….. I love cantaloupe. Maybe I ate too much?
Anyway, it's 10:30 PM and Ryan helped me get the clean sheets and quilt on my bed so I'm tucked in for the evening.
Hopefully tomorrow will be another step forward in my healing journey.
Friday, June 26, 2020
Today was the first day following my surgery where I woke up feeling normal. By that I mean I didn't have any excruciating pain anywhere, including my new shoulder area, and I felt like I had a good night's sleep. Also, I didn't have to force myself to get out of bed; I actually wanted to get up and get dressed.
Ryan cooked some scrambled eggs for breakfast – they were really good too!
Let's see, surgery was 10 days ago. It took me 10 full days to feel some semblance of 'normal'.
Progress.
10:45 PM
I'm wondering if my arm will ever feel 'normal' again this evening. I've been diligent about physical therapy but I didn't have the strength to turn on the kitchen faucet with my right arm. In reading Dr. Matsen's physical therapy after total shoulder replacement blog, I see that the initial phase of exercises I've been given are designed to make sure I have good motion in my shoulder, with the next phase of physical therapy focused on building back strength. Overall, I will need to dedicate the next two years to rehabilitating my shoulder.
Clearly patience is going to be needed. I'll light a candle for the Angel of Patience to guide me.
Saturday, June 27, 2020
Today was just an OK day. I've been battling some sort of digestive bug for a few days now so imodium and I have become good friends.
Physical therapy is much easier today. I feel like I'm making good progress with my shoulder.
Weather has turned back to more like March weather today – which I don't mind at all. I would much rather sleep with window open than A/C on anyway.
Still waiting on the check for the motorhome – it didn't come today. Hopefully it will come Monday.
Sunday, June 28 2020
I slept so well last night; I actually feel I heal best at night when I sleep.
Physical therapy is going well. However, I noticed that while I can pretty much get my right arm all the way up using my left arm to do lift it, I literally have no muscle strength in my right arm itself. I'm assuming that is pretty normal? I see my surgeon on Wednesday to get the staples out and will ask him then.
10:17 PM
I am going to call my primary care doctor tomorrow about the continuing low grade fever and intermittent diarrhea. I feel like my body is battling some kind of infection.
Monday, June 29 2020
Not a good day today. Didn't feel right all day with back pain and diarrhea (again). Called doctor's office and spoke at length to the nurse. Hoping to hear back from my doctor tomorrow on next steps.
Tuesday June 30 2020
2:30 AM
Pain woke me up so I took my meds (all of them except the laxatives). I think I let the pain get ahead of me yesterday so I won't make that mistake again today.
8:48 PM
Today was a pretty decent day overall. No diarrhea and appetite good. Physical therapy also went well. Telehealth visit with my primary care doctor went well too.
Tomorrow I get my stitches out.
July 1 2020
Today I saw Dr. Matsen and got my staples out. Before and after pics:
Thursday, July 2, 2020
My shoulder is doing well today. The pulley exercises are easier than before and hurt my back much less.
The COVID19 pandemic is on the upswing again. It's clear that both political parties are more concerned about the multinational corporations running this shit show than they are about the people. We're truly on our own when it comes to protecting ourselves.
Honestly, I'm deeply grateful to have had this surgery and be on the mend.
Friday, July 3, 2020
I'm trying to wean myself off the pain meds during the day and it is proving to be a challenge. I took the Tylenol and Gabapentin this morning when I got up and it's now 7:50 PM and I'm in pain.
Maybe it is too soon to try this?
Also, I am not taking any medication for my arthritis at all and I believe that's why my back hurts so much.
I'm going in for the lab work this weekend when, hopefully, there aren't very many people there. Then maybe my doctor will allow me to go back on the diclofenac for my arthritis.
We shall see.
Saturday, July 4, 2020
Today has been a pretty good day. I stopped doing the door pulley exercises because of what they do to my lower back and honestly, I feel better.
Range of motion is really good and I'm working on building up my strength.
I also took a nice, hot bath for the first time in almost three weeks. Heavenly.
PS – I detest fireworks. And the people in my neighborhood have the illegal ones that literally sound and feel like a bomb. Ryan went out and found the house where he thinks they were coming from so I've called the non-emergency police number (again).
Sunday, July 5, 2020
Today was a puzzling day. I woke up with my left thumb (the one that was broken and never diagnosed as such, or fixed, after my motorcycle accident in 2006) was literally bent and I couldn't unbend it without using my other hand to move the thumb manually. After taking some Tylenol and other meds I have for pain etc, I was able to bend it but I can tell there's some arthritis inhibiting it from functioning normally. Will it feel OK again if I'm able to restart my arthritis medication? I don't know, but I'm hoping so. I will be calling a hand specialist tomorrow and setting up a consult though.
My shoulder itself is healing as you can see from this photo:
I'm keeping up with both Tylenol as well as PT which is a good thing. But I find if I don't keep up with the pain meds, I can really feel it and it is not pleasant.
Tomorrow I have my hair appointment with Denise at Studio H Salon. She's normally closed on Monday but she's doing my hair on that day to protect me from COVID19; I'm so very grateful to her. The goal is to remove the blond hair color and get my hair to it's natural white/silver all over.
Before and after hair pics to come!
July 6, 2020
I finally got my hair fixed today. I wanted to have as natural a color as possible. After just 4 hours, here's what it looked like before and what it looks like after:
Feels so good to finally be myself – for the first time in a long time.
July 7, 2020
Today was *the* best day yet for my shoulder's recovery and my arthritis.
My primary care doctor gave me the go ahead to start taking my arthritis medication again after my blood work showed improvement in my kidney function. She did change the prescription though to celebrex (generic). We'll see how that works.
For the first time, I am able to life my arm without using my other arm to do it.
Progress indeed!
And the steri-strips all came off tonight. I think the scar will look pretty good eventually. Here's what it looks like today:
Sunday, July 26, 2020
Almost 20 days since my last update. I've been busy. My shoulder is feeling almost normal now. In fact, Ryan and I did a bit of yard work and pulled out one of the old shrubs that was driving me crazy today. Yes, it is sore. But I'm finding that I don't favor it like I did before surgery and that I have full range of motion and almost all my strength back.
My six week follow up visit is this coming Wednesday (same day I go back to work).
Now my focus is strengthening my core in support of my back which, due to spinal stenosis, makes it difficult to stand or walk for any length of time. I feel confident that by 2025, it will be better (that's when I'm hoping to go to Disneyland with my sons and granddaughter, Isabella Lynne Hickney).
I'm going to close this out now. I can say with confidence that my shoulder replacement surgery was much easier than my hip replacement – which surprises even me.
UPDATE August 8, 2020
Coming up on 8 weeks post total shoulder replacement and I have to say I'm so impressed and pleased with the outcome. I have darn near full range of motion and my strength is coming back very nicely. I could not be happier with the outcome.