On 9/20 I took a red eye to Gulfport, Mississippi to pick up my new-to-me Chinook. I had a 3 hour layover in Atlanta. Whew. Couldn't sleep much at all. Then the flight from Atlanta to Gulfport had to turn around mid-way due to a "pressurization problem". Yikes! We landed back in Atlanta safely and they had us on another plane within an hour.
Claude picked me up at the airport in Gulfport and drove me to the motorhome which was waiting at Empress Audio and Marine to get the new Pioneer deck with Apple Car play installed. That went very well and they even put on my Washington state plates as well! Everything went smoothly.
I headed to my reservation at Sunset Marina at 43 RV park in Brandon, Mississippi and managed to get myself good and lost. It was starting to storm too so I was pretty anxious as it was almost dark. Finally found my way back to the right road and I was there in no time. The RV park was really amazing and the view was breathtaking. Here are the first photos of the RV in the camping spot on the first night.
I took off around 8 AM and fully intended to get to Moscow, Iowa (over 600 miles). The drive went very well (except Arkansas highways are awful!). And the Mississippi rest stops are something to behold. Here's some photos I took – Ryan said he might even be willing to use them when I showed him these pics.
I have a new cell phone holder with the Chinook logo too!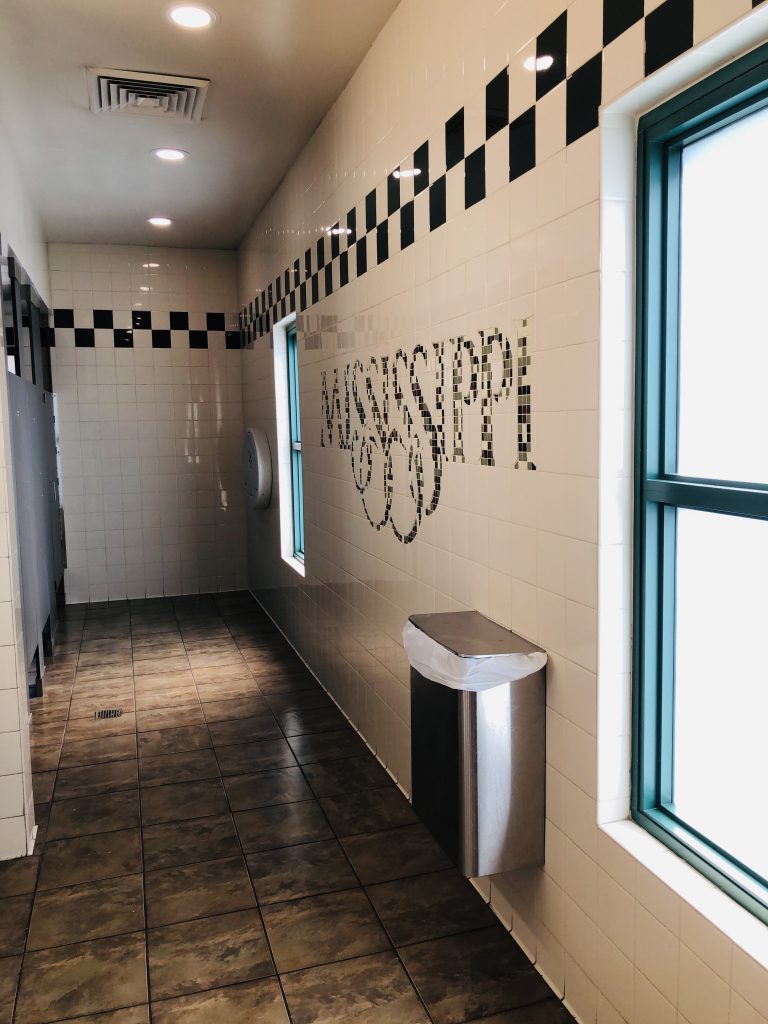 I made it all the way to St Louis and it was close to 5 PM. I decided to find an RV spot for the night and got lucky as the first two I called were full. Am tucked away in my wonderful Chinook for the night and plan to hear out at 6:30 AM tomorrow to get to Moscow, Iowa to have the slides and jacks inspected at HWH Corp.
More tomorrow.
Thursday, September 23, 2021
So today I drove from St. Louis to HWH Corp in Moscow, Iowa. They manufactured the hydraulic system for the slides and the leveling jacks in my motorhome. I wanted them to do a complete inspection. I arrived at 11:45 AM for a 1:30 PM appointment and they got me in right away.
The technician said I needed the control board to be fixed – was a shorted out relay. The thing is, the slides worked fine when I got there so it's good that I had them inspected the system! However, the technician clearly wasn't that familiar with Chinooks and couldn't get the slide in the living room to go back in. After 3 hours of fiddling with it, he finally "called the engineer" and then they had it working fine.
Go figure.
Bottom line is everything is working great and I'm in a nice little campground about 5 miles away. I'll have a very, very long drive tomorrow so I'm going to bed early. I need to get to Denver by tomorrow night.
More tomorrow.
Friday, September 24, 2021
I drove over 11 hours to Denver. In some areas, the roads were so bad that my little Chinook shook some screws loose on the panel below the sofa bed! I also noticed that a good wheel alignment would be in order while I'm in Denver.
I arrived at the Dakota Ridge RV Park around 6:45 PM and Matt came to pick me up shortly after that. He asked me if I could stay an extra week because his film – Circa 2020 – was accepted in to the Los Angeles Life Up Film Festival and was being shown at the Hollywood Chinese Theater! Of course I said yes and now I have to figure out where to put the RV for that extra week.
By the way, this RV park is horrible! A loud biker's bar is right across the street and the spaces are *very* tight.
So excited to see my #IsabellaLynneHickney!
Avoid the Dakota Ridge RV park in the future for sure!
More to come.
Wednesday, September 29, 2021
This time last year Ryan was here in Denver and I was very sick at home. So much has happened this past year!
Isabella is such a little love bug. I've had so much fun watching her and seeing how much she's grown since just last spring!
Thursday, September 30, 2021
Today I have to move my Chinook to another RV park for the rest of my stay here in Denver. When Matt asked me to stay another week so he could fly to Los Angeles, I asked the Dakota Ridge RV park if I could extend my stay and they said no, but would put me on their "waiting list". So I found a KOA park a little further away that could get me in. It's a bit of a kabuki dance because Matt needs to work later today and I need a ride back from the new KOA. We will make it work. I'll try to get some new pics posted later.
Thursday, October 7, 2021
We moved the RV to the East Denver KOA – which is a good 50 minutes away. Not ideal, but it will work for what I need.
It's been a wonderful week with my little Chickadee Isabella! I've had so much fun with her. She's got a mind of her own (she comes by that naturally) and being her primary care giver this past week has been such a blessing. Today is my last day with her as I have to leave tomorrow to drive back home. Here are a few of the videos I took this past week.
Isabella really loves watching movies with herself in them – especially the collecting rocks video above!
I'm going to miss her so much when I go home! But I feel truly blessed to have spent the past two weeks with her.
Thursday night, October 7, 2021 – 10:32 PM
I took a LYFT out to the RV and made it here safely. I cried when I left Isabella – hard not to. I love her so much and we had such a GREAT time together! Here's another video I took today and a pic I took yesterday.
I made it home safely around 7:15 PM on Saturday, October 9, 2021. Got the motorhome backed in to the RV parking area and began the process of unloading my luggage and personal items. I took a hot bath and slept like a baby. I've made a list of the little things the motorhome needs and hope to get them done in the next few months. I love my Chinook Summit!
But I love my granddaughter Isabella Lynne Hickney more than words can say!