So after our wonderful road trip, it is time to focus on the house and needed repairs. I fixed the walking stones in the front yard which were uprooted when the electrical was installed for the Chinook. And now I'm turning my attention to the back yard (again).
It seems like only yesterday when I built the deck addition and bought a wonderful teak patio set. But that was 15 years ago – and my body feels 15 years older too!
I started to pressure wash the teak furniture and while sanding it I realized I was silly to keep this set when I can no longer take good care of it. So I decided to sell it and buy a wrought iron set that isn't so high maintenance.
I found a wonderful Woodard French Country set that was in mint condition here locally so we picked it up last weekend. I'm going to put outdoor carpet on the deck to help protect it.
Anyway, deck refurbishment began and I'm trying to do a little every day. Here's a few pics of what it looked like when I started.
I'm replacing one deck board that is in pretty bad shape and then will hire someone to do the scraping and sanding. I'll do the prep for painting and get it done myself. I honestly wish I could hire someone to do painting too but we spent all our money on our vacation and the new-to-us Woodard patio set. Which I just love!
UPDATE – Thursday, August 4, 2022
I've made really good progress on the deck painting. I ordered some stair treads for both the back door and the stairs to the bottom of the deck on the side yard. Will feel better walking out in the rain and ice with those treads on the stairs.
I still need to paint the sides of the deck to make it look nice. And I also need to restain/paint the door from the patio. I'm going to paint it white to match the french doors from the family room (and that door needs to be painted too!)
UPDATE – Saturday, August 6, 2022
Today I painted the sides of the deck. I had to have Sherwin Williams match the deck color because the paint I was using was so clumpy. It matches great and looks pretty good.
Ryan and I got the furniture moved out and the new deck rugs on. It's coming together, slowly but surely. Next, I am going to paint the little step and clear off the potting bench. And the next project is to paint the dining room back door. Never ending maintenance it seems. Here's a few more pics from today.
UPDATE – Sunday, August 7, 2022
Washed the fire pit area and put some stuff away. A few pics as of this afternoon. Still have to organize the potting bench.
One more from the dining room door that includes the fire pit area.
I still have a few things I'd like to accomplish this summer; paint the back dining room door white to match the french doors, level and lay the pavers by the garden shed, organize the garden shed, remove the big ugly bush by the end of the waterfall, etc. But I'm feeling pretty good about how much I've accomplished already.
UPDATE – Sunday, August 14, 2022
The progress continues on my backyard renovation. Here's a short video I took last weekend – includes my lovely pond-less waterfall.
This weekend, I painted the deck rug stakes to blend in better with the rugs (they were stainless steel in color and would have looked horrible). I also painted the screws too.
And i received the new Sunbrella canopy for my Galtech 9′ umbrella – it matches my 11′ cantilever umbrella. I bought it from The Patio Umbrella Store and I'm also replacing the bottom half of the pole for it as well.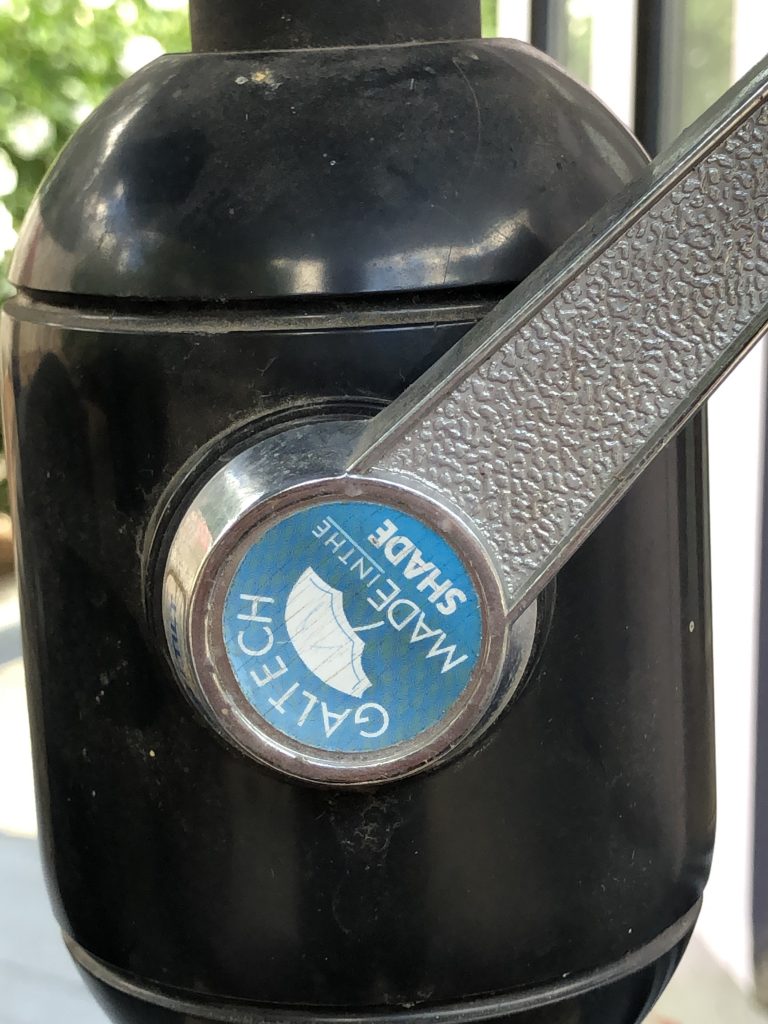 And today I stained the dining room back door. I'll need to put a few coats of urethane on it sometime this week, hopefully. And I ordered two stainless steel kick plates for the dining room doors from Kick Plate Direct.
I'm not going to paint the french doors – they are fine as is. I think I've just about done enough this summer.
UPDATE – Wednesday, August 17, 2022
I ordered a piece of table glass for my cute little table that goes between our chaise lounge chairs – it is perfect and I love it!
UPDATE – Thursday, August 18, 2022
When we bought this house in 1994, there was no door from the dining area – it was just a big window. I found these french doors from an old wine cellar down in Portland and carted them back home. I hired a carpenter to install them after I removed the old window. I never did any maintenance on them or anything so they were in really bad shape. Here's a close up that I made lighter so you can see the damage from years of weather and use plus pressure washing the bottom part. They were ugly.
So I decided to clean them up and stain them. Here's just after I started doing the staining.
I've been putting the top coat on the last few days and have one more coat to go. Then I'll take some more pics.
UPDATE – Monday, August 22, 2022
I finally finished staining and putting 3 top coats on the dining room french doors – they look great! I should be receiving the stainless steel kick plates I ordered later this month and then that project will be done.
UPDATE – Tuesday, August 23, 2022
I truly love my backyard. I took this short video this weekend.
I finally received the stainless steel kick plates I ordered for the dining room doors. They look wonderful!